Customer relationship management (CRM) software has improved dramatically since the first tools became available. These tools make it easy to store customer data and use it to create buyer personas. One of the biggest names in CRM software is Salesforce. However, Salesforce isn't the right solution for everyone.
In this article, we discuss some of the available CRM alternatives. We cover what to look for in a Salesforce alternative and give you the details you need to decide which tool will best help you improve your customer relationships.
What Should You Look for in a Salesforce Alternative?
Salesforce is a powerful CRM software, but the best CRM tool for you is the one that provides the most value to your business. When looking for Salesforce alternatives, keep these concepts in mind:
Features: Look at the features that come with all the major options and decide which ones are must-haves for your organization
Ease-of-use: You want your employees to be able to make the most of the CRM, so it should be easy to use
Customization: One size rarely fits all. A good Salesforce alternative is one you can customize to suit your needs
Integrations: Your organization needs more than just a CRM in its tech stack, and the CRM software you choose should integrate nicely with those other tools
Scalability: Every organization's goal is to grow. Pick a CRM that can grow with you, so you don't need to switch if you grow too large for your choice
Pricing: Look at the pricing for the level you're at now and where you'll be in the future. Some products have steep price increases as companies grow. Take advantage of their free trial if offered to get a hands-on experience without the commitment
The 12 Best Salesforce Alternatives to Use in 2023
The following is a list of 12 Salesforce CRM alternatives. Each of these popular programs has helped many organizations manage their customer relationships.
ClickUp is a project management platform that also offers CRM features, such as contact management, lead management, and sales pipeline monitoring. It's a highly customizable cloud-based platform with an extensive set of CRM templates and third-party integrations.
As a highly customizable solution, ClickUp allows you to create reporting dashboards that fit your needs and develop custom workflow processes for improved business operations. With robust reporting capabilities, you can turn those dashboards into printed reports easily.
ClickUp best features
Create, assign, and track tasks for individuals or teams
Monitor time spent on tasks and projects
Facilitate teamwork and communication within the platform
Set tasks and monitor progress toward specific goals
Share and collaborate on documents within the CRM
ClickUp Limitations
The learning curve can be steep for some features
The program sometimes lags when completing complex tasks
ClickUp pricing
Free Forever Plan: Free
Unlimited Plan: $7/month per user
Business Plan: $12/month per user
Enterprise Plan: Contact for pricing
ClickUp ratings and reviews
G2: 4.7/5 (2,000+ reviews)
Capterra: 4.7/5 (2,000+ reviews)
2. Zendesk Sell
Zendesk Sell is a CRM system that focuses on meeting the needs of sales teams. In addition to contact management, it has many features to help salespeople track leads, manage pipelines, and close deals. It's a cloud-based platform that integrates easily with other Zendesk products.
Zendesk Sell best features
Visualize and manage sales opportunities through various stages
Organize and track customer journeys
Gain insights into sales performance and trends
Connects to your email to track communications
Zendesk Sell limitations
Limited customization options for some fields
Occasional bugs and glitches in the mobile app
Zendesk Sell pricing
Team: $19/month per user
Growth: $55/month per user
Professional: $115/month per user
Enterprise: $169/month per user
Zendesk Sell ratings and reviews
G2: 4.2/5 (500+ reviews)
Capterra: 4.3/5 (150 reviews)
3. Pipedrive
Next on this list of Salesforce CRM alternatives is Pipedrive. It has a simple and user-friendly interface that allows you to get up and running quickly. It includes features for sales teams, with lead management to close more sales.
Pipedrive best features
Easily track deals through various stages
Sync and track emails within the CRM
Generate reports and gain insights into sales performance
Receive notifications for important tasks and follow-ups
Customize the workflows to match your specific needs
Pipedrive limitations
The analytics and reporting features aren't as robust as some users want
Some automation features are lacking compared with alternatives
Pipedrive pricing
Essential: $14.90/month per user
Advanced: $27.90/month per user
Professional: $49.90/month per user
Power: $64.90/month per user
Enterprise: $99.00/month per user
Pipedrive ratings and reviews
G2: 4.2/5 (1,500+ reviews)
Capterra: 4.5/5 (2,500+ reviews)
4. ActiveCampaign
ActiveCampaign targets the CRM needs of both small and large organizations. It helps automate marketing and business processes and offers various tools for managing leads and creating targeted email campaigns. ActiveCampaign also integrates with several third-party tools.
ActiveCampaign best features
Create automated campaign management based on customer behavior
Design and send personalized email campaigns
Manage contacts and automate sales processes
Identify and prioritize potential leads based on engagement
Monitor user activity on your website and events
ActiveCampaign limitations
It does not offer as much flexibility in managing contacts as some users want
The software has a steep learning curve for automation and advanced features
ActiveCampaign pricing
Plus: $19/month
Professional: $49/month
Enterprise: Contact sales for pricing
ActiveCampaign ratings and reviews
G2: 4.4/5 (1,000+ reviews)
Capterra: 4.6/5 (2,000+ reviews)
5. HubSpot CRM
HubSpot is one of the earliest and most successful CRMs and an innovator in marketing and sales automation. Its platform offers hubs for marketing, sales, and customer service, all of which integrate seamlessly with the CRM.
HubSpot best features
HubSpot limitations
HubSpot pricing
Free forever: Free
Starter: $50/month
Professional: $500/month
Enterprise: $1,200/month
HubSpot ratings and reviews
G2: 4.4/5 (10,000+ reviews)
Capterra: 4.5/5 (400+ reviews)
6. Airtable
Airtable is a spreadsheet-based program that you can use for various CRM purposes. With features to track leads, manage sales pipelines, and store customer data, Airtable is an easy-to-use basic CRM platform.
Airtable best features
Create custom customer databases for various use cases
Collaborate with team members in real time
Integrate with third-party tools and services for extended functionality
Organize and track projects with task and deadline management
Customize how data is displayed with different view options
Airtable limitations
It has limited features compared with some competitors
It can be difficult to integrate with other products

Airtable pricing
Free forever: Free
Plus: $10/month per user
Pro: $20/month per user
Enterprise: Contact sales for pricing
Airtable ratings and reviews
G2: 4.6/5 (2,000+ reviews)
Capterra: 4.7/5 (1,500+ reviews)
7. Smartsheet
Like Airtable, Smartsheet is a spreadsheet-based platform. It allows you to create smart spreadsheets for various purposes, including basic CRM tasks. Although not the most complex CRM solution, it can store sales data and enhance productivity in an easy-to-use CRM.
Smartsheet best features
Plan, track, and manage projects with Gantt charts and task Lists
Collaborate in real time and share files with team members
Get a nice visual overview of your sales pipeline
Streamline repetitive processes with automated workflows
Create visual reports and dashboards
Smartsheet limitations
The learning curve is steep if you want to use all the features it offers
Some users complain of a lack of automation features
Smartsheet pricing
Free forever: Free
Pro: $7/month
Business: $25/month
Enterprise: Contact sales for pricing
Smartsheet ratings and reviews
G2: 4.5/5 (13,000+ reviews)
Capterra: 4.5/5 (2,500+ reviews)
8. Keap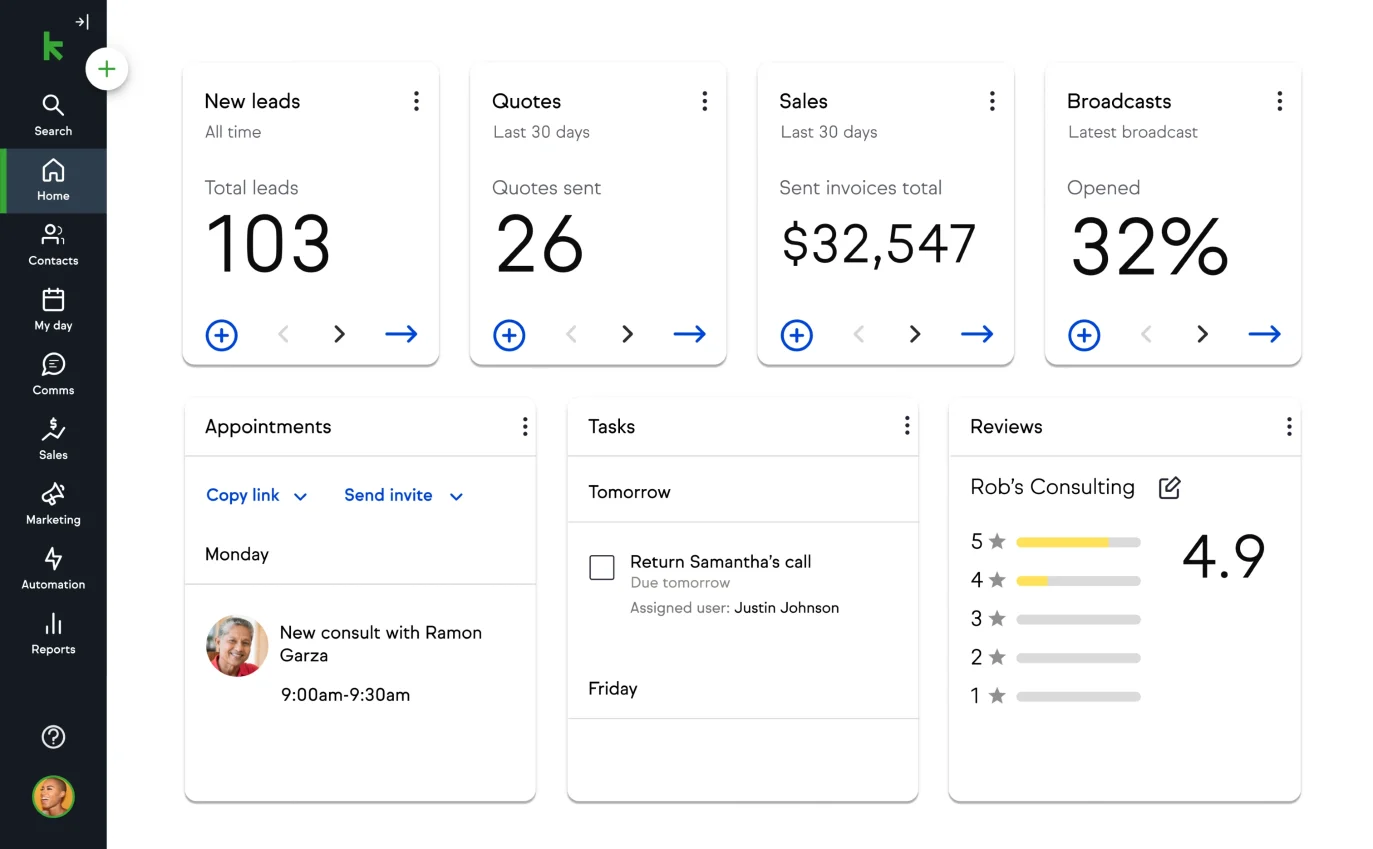 Keap, formerly called Infusionsoft, is a cloud-based CRM platform that automates marketing and sales processes. The software integrates with other popular marketing and sales tools for extended functionality.
Its marketing automation features can improve your sales team's productivity. Small organizations and larger enterprises alike can benefit from this robust platform.
Keap best features
Automate sales processes and manage contacts
Design and implement targeted email marketing campaigns
Identify and prioritize leads based on engagement and behavior
Integrate with ecommerce platforms for online sales tracking
Enable clients to book appointments online
Keap limitations
The price is prohibitive for some users
Some customers find the interface and setup process confusing
Keap pricing
Pro: $199/month
Max: $289/month
Max Classic: Contact sales for pricing
Keap ratings and reviews
G2: 4.2/5 (1,000+ reviews)
Capterra: 4.1/5 (1,000+ reviews)
9. Microsoft Dynamics
Suitable for organizations of all sizes, Microsoft Dynamics is the CRM platform in the Microsoft ecosystem. It includes a comprehensive set of CRM features and integrates with other Microsoft products to extend functionality.
Microsoft Dynamics best features
Comprehensive suite, including CRM, enterprise resource planning, and other business tools
Artificial intelligence-driven insights to enhance sales performance
Customer inquiries and support case capabilities
Targeted marketing campaign creation and management
Seamless connection with Office 365, Teams, and other Microsoft products
Microsoft Dynamics limitations
Setup is complex and time-consuming for some users
Integration with products outside the Microsoft ecosystem can be difficult
Microsoft Dynamics pricing
Essentials: $70/month per user
Premium: $100/month per user
Microsoft Dynamics ratings and reviews
G2: 3.8/5 (500+ reviews)
Capterra: 4.4/5 (5,000+ reviews)
10. Zoho CRM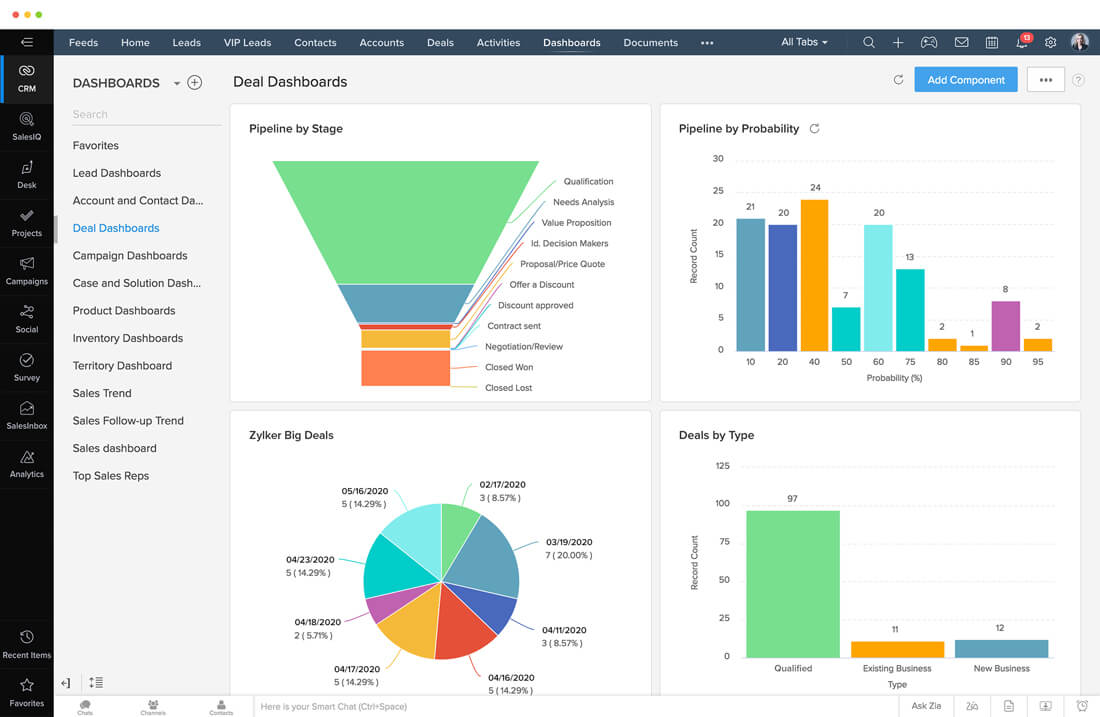 Zoho offers a well-known suite of cloud-based business tools. Zoho CRM is its CRM solution. The solution helps companies of all sizes manage sales, marketing, and customer support. It can store contact data, improve customer satisfaction, and automate tasks.
Zoho CRM combines with companies' other tools to share CRM data and improve business intelligence.
Zoho best features
Automate repetitive tasks and streamline the sales process
Communicate with customers across multiple channels
Gain insights into sales performance and trends with analytics and reporting tools
Create automated workflows to improve efficiency
Access CRM features through mobile apps
Zoho limitations
The performance is occasionally laggy
The free plan does not have enough customization options
Zoho pricing
Free forever: Free
Standard: $14/month per user
Professional: $23/month per user
Enterprise: $40/month per user
Ultimate: $52/month per user
Zoho ratings and reviews
G2: 4/5 (2,000+ reviews)
Capterra: 4.3/5 (6,000+ reviews)
Check out these Zoho alternatives!
11. Bitrix24 CRM
Bitrix24 CRM is the customer relationship portion of Bitrix24. Bitrix developed this comprehensive business management and collaboration platform. It includes tools for CRM and project management.
Bitrix24 CRM best features
Communicate and collaborate with team members
Automate sales and marketing processes
Use project and task management tools within the CRM
Connect with customers through multiple channels
Store and share documents
Bitrix24 CRM limitations
Some users find the user interface overly complex, especially for the advanced features
Some users report occasional slowdowns in performance
Bitrix24 CRM pricing
Basic: $49/month
Standard: $99/month
Professional: $199/month
Enterprise: $399/month
Bitrix24 CRM ratings and reviews
G2: 4.1/5 (500 reviews)
Capterra: 4.2/5 (500+ reviews)
12. Salesflare
Salesflare is CRM software that offers an easy-to-use solution for small and medium-sized organizations. Its primary purpose is to help companies with basic CRM needs, such as automating data entry and simplifying the sales process.
Salesflare best features
Track email opens, link clicks, and engagement with contacts
Organize and manage customer contact information
Receive reminders when follow-ups are due
Schedule meetings seamlessly with integration options
Visualize and manage sales opportunities
Salesflare limitations
The software has limited reporting features compared with some of its competitors
The mobile app isn't as feature-rich and performance as it could be
Salesflare pricing
Growth: $29/month per user
Pro: $49/month per user
Enterprise: $99/month per user
Salesflare ratings and reviews
G2: 4.8/5 (200+ reviews)
Capterra: 4.7/5 (100+ reviews)
Get Started With ClickUp's Customer Relationship Management
Integrating a CRM with your existing project management platform can be a pain. Why not go with an all-in-one solution where you can manage your projects and your customer relationships with ease?
ClickUp is that all-in-one project management platform. Thanks to powerful CRM tools built right into your project management system, you can stay on top of your projects while also having eyes on your customer contacts, leads, and the entire sales and marketing pipeline.
And best of all, we offer ready-to-use project management templates and CRM templates at all tiers, including our Free Forever Plan. Create your free ClickUp account and experience how ClickUp is a powerful Salesforce CRM alternative.