The right software programs can help you organize tasks and work faster, and be more productive. They'll help you track task progress and stay on top of due dates with recurring reminders, so you'll never miss an important item on your to-do list.
Below, we'll explore some online daily checklist apps, mobile apps, and other tools to help you keep your to-do list under control. We'll explore what to look for in a checklist app so you can pick the one that best fits your needs when managing tasks.
Top 10 Daily Checklist Apps to Stay Productive in 2023
What Should You Look for in a Daily Checklist App?
Most people have a set of recurring tasks they need to keep track of. Daily checklist apps can make it easy to add tasks that will repeat daily, weekly, or monthly. They'll also have the ability to add one-off tasks for those times when something out of the ordinary comes up.
It's helpful to see what's available so you can pick a checklist app that has the features you need. Some of the features commonly available in daily checklist apps include:
The ability to prioritize tasks to make the most efficient use of your time
A user-friendly interface that makes it easy for anyone to get started
The ability to group tasks into multiple projects for easier organization
Due date functionality to help you manage your time and avoid missing important deadlines
Features that allow for task dependencies so you can complete tasks in the appropriate order
The ability to tag tasks for better organization
A set of built-in to do list templates to get you started quickly
The 10 Best Daily Checklist Apps to Use in 2023
Finding the best daily checklist app for your needs means evaluating the top options. We've assembled the top online checklist apps below to help you do that.
ClickUp is a project management and productivity platform. Among its many features is the ability to create checklists, assign ClickUp Tasks, set due dates, and track progress. The software has support for many views, such as Kanban, Gantt charts, and simple ClickUp Task Checklist formats, so it works for a variety of preferences and workflows. ClickUp integrates with many third-party tools to extend the functionality and centralize work.
ClickUp best features
Create checklists with any number of items and subitems and easily customize their appearance
Set checklists to repeat daily, weekly, or monthly so tasks are always relevant to the day
Create your own checklist templates or choose from a selection of pre-built ones
Receive notifications when checklist items are due so you never miss a deadline
Collaborate easily with others on the same tasks by sharing your checklists
ClickUp limitations
The interface can be overwhelming for new users
Not all views are available on the mobile app…yet!
ClickUp pricing
Free Forever
Unlimited: $7/month per user
Business: $12/month per user
Business Plus: $19/month per user
Enterprise: Contact for pricing
ClickUp ratings and reviews
G2: 4.7/5 (2,000+ reviews)
Capterra: 4.7/5 (2,000+ reviews)
2. Toggl Plan
Toggl Plan features an intuitive drag-and-drop interface for creating and managing to-do lists. The software comprises a project management app and task scheduling tool that allows users to assign tasks, track due dates, and set deadline reminders. The software scales nicely from simple personal projects to the managing of large teams.
Toggl Plan best features
Visualize tasks and projects on a Kanban board for easy, at-a-glance viewing
Set tasks to recur on a weekly or monthly basis, in addition to keeping a daily checklist
Create a system of dependencies for tasks so you'll know which to complete first
Collaborate easily with others on tasks and projects to keep everyone in sync
Toggl Plan limitations
The app can be difficult to learn
The reporting features are not as robust as some users would like
The mobile app is not as fully featured as the desktop app
Toggl Plan pricing
Free Forever
Team: $9/month per user
Business: $15/month per user
Toggl Plan ratings and reviews
G2: 4.3/5 (37 reviews)
Capterra: 4.5/5 (100+ reviews)
3. Habitica
This software is a popular task management tool that takes a completely different approach to the problem. It turns your life into a role-playing game (RPG).
You control a virtual character who has the same tasks as you. When you complete a task, your virtual character gains experience points and eventually levels up. Your character can join parties or guilds, which allow you to collaborate with your real-life friends and team members on tasks you share.
Habitica best features
Playing an RPG game makes boring checklists more interesting
Track your habits to see your progress over time and ensure you stay disciplined
Earn rewards for completed tasks and habits to help keep you more motivated
Level up your virtual self as you complete more and more tasks to gain a sense of accomplishment
Interact with a large community of users to get support and help you stay focused on your tasks
Habitica limitations
The gamification can be too much for some users
The app can be addictive, so you may spend more time on it than you plan to
Some reviewers feel the price is too high
Habitica pricing
Free Forever
$4.99/month or $47.99 yearly
Habitica ratings and reviews
App Store: 4/5 (1,700+ reviews)
Google Play: 4/5 (24,900 reviews)
4. TickTick
TickTick is a dedicated checklist app to improve both personal and team productivity. The focus is on simplicity, allowing users to create, organize, and prioritize their tasks without a large learning curve.
Users can share tasks, attach files, and get reminders about upcoming due dates. Data in the app synchronizes across all platforms that have it installed, so it's always ready to keep you on track regardless of which device you're using.
TickTick best features
Create tasks using natural language input, and TickTick will automatically fill in the correct fields to create the task
Set due dates for tasks so you'll know what to work on for the day and how long you have left to complete it
Set reminder notifications for tasks and checklist items so you don't forget to complete them
Assign priorities to your tasks to help you decide which order to complete them in
Set contexts to tasks to provide more information about when and where you must complete them
TickTick limitations
TickTick pricing
$2.79/month or $27.99/yearly
TickTick ratings and reviews
G2: 4.5/5 (87 reviews)
Capterra: 4.7/5 (100+ reviews)
5. Apple Notes
This app is built into Apple devices. Best for taking notes, it also has basic checklist functionality.
Although not as feature rich as dedicated checklist apps, Apple Notes provides a simple and accessible solution for basic checklist needs. It allows users to create lists, add items, and mark them complete. It syncs data automatically against all connected Apple devices.
Apple Notes best features
Create and manage your daily tasks easily using an intuitive user interface
Sync your tasks automatically across any Apple device that has the app installed
Use Markdown to format your checklists for a more visually appealing and easy-to-read display
Search checklists easily for specific tasks or items
Apple Notes limitations
The app is not as feature rich as some other options
It does not support collaboration as well as some competitors
Apple Notes pricing
Apple Notes ratings and reviews
App Store: 4.8/5 (55,800 reviews)
6. Assembly
Assembly is a business-focused workflow automation platform. It features a comprehensive solution for managing employees. Among the feature set is the ability to create task lists, which you can sort, automate, and prioritize based on your needs.
Deep integration with multiple third-party apps and the extensive feature set above and beyond task management make this an attractive option for larger businesses.
Assembly best features
Customize checklists extensively, including colors and icons as well as the number of items and subitems
Share checklists with others to quickly and easily collaborate on joint tasks
Create templates from your favorite checklists and reuse their format and settings over and over
Get notifications when checklist items are due to avoid forgetting an important task
Visualize your progress and stay on top of tasks with support for Gantt charts
Assembly limitations
The learning curve can be steep for some users
As a business-focused app, it isn't as well suited to personal tasks as the competition
Assembly pricing
Free Forever
List: $2.80/month per user
Standard: $4.50/month per user
Premium: Contact sales for pricing
Assembly ratings and reviews
G2: 4.8/5 (100+ reviews)
Capterra: 4.8/5 (78 reviews)
7. GoodTask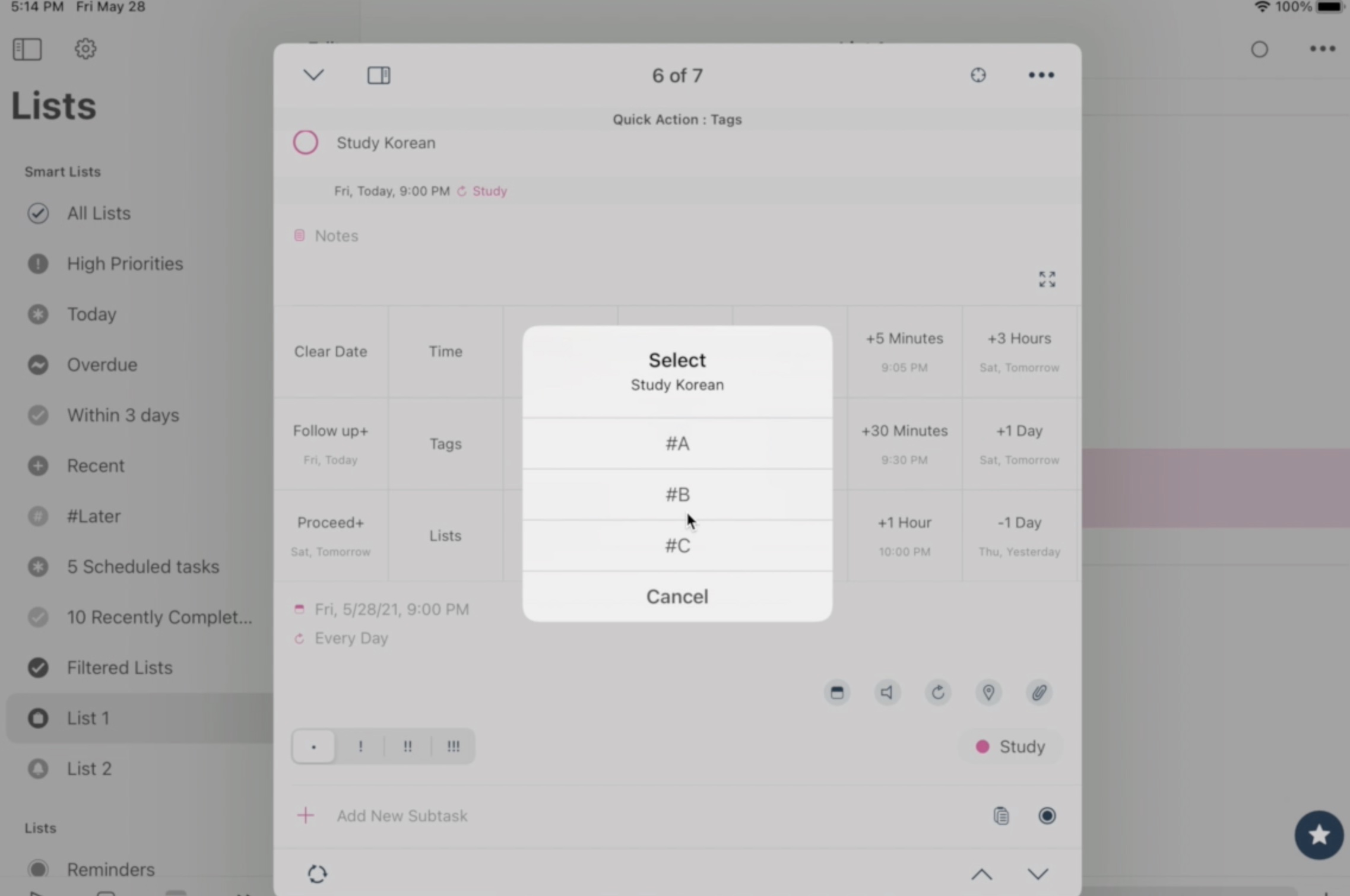 This is a third-party task management solution for the Apple ecosystem. It integrates nicely with Apple's Reminders and Calendar apps and syncs its information with iCloud to make it available on any connected device. Users can create checklists, set due dates, and even create lists of subtasks to stay better organized.
GoodTask best features
Limit the amount of typing and clicking by using its basic natural language input feature
Set due dates for tasks and other items to help you pace out your work and plan your day
Get notifications to remind you when tasks are due so you don't forget to finish important items
Assign priorities to tasks to help you decide which you should work on first
Use Gantt charts to visualize the work you've done and what is still left to do
GoodTask limitations
Some features of other apps are missing in GoodTask
The app can be buggy at times
GoodTask pricing
Free Forever
Supporter: $9.99/month
GoodTask ratings and reviews
App Store: 4.6/5 (1,700+ reviews)
8. Google Tasks
This is a free checklist app from Google. It integrates with Google Calendar and other software in the Google Workspace suite. Many of those products will automatically create a Google task and add it to the Tasks app. As a basic offering, it lacks some of the advanced features of other apps but is a nice option for a basic digital checklist app.
As it syncs with other Google Cloud products, the app works seamlessly on multiple devices. Wherever you make changes to your to-do list, Google will keep track of them.
Google Tasks best features
Create and manage checklists quickly and easily using the simple and intuitive interface
Automatically create tasks as you work with many of the products in the Google Workspace suite
Sync your checklists across any device that can connect to Google Workspace
Get notifications on the mobile app that alert you when an upcoming task is due
Google Tasks limitations
Although easy to use, the functionality is basic compared to the Google Tasks alternatives
Reliance on Google products makes collaboration more restricted than with other apps
Google Tasks pricing
Google Tasks ratings and reviews
App Store: 4.8/5 (75,600 reviews)
Google Play: 4.4/5 (327,000 reviews)
9. Things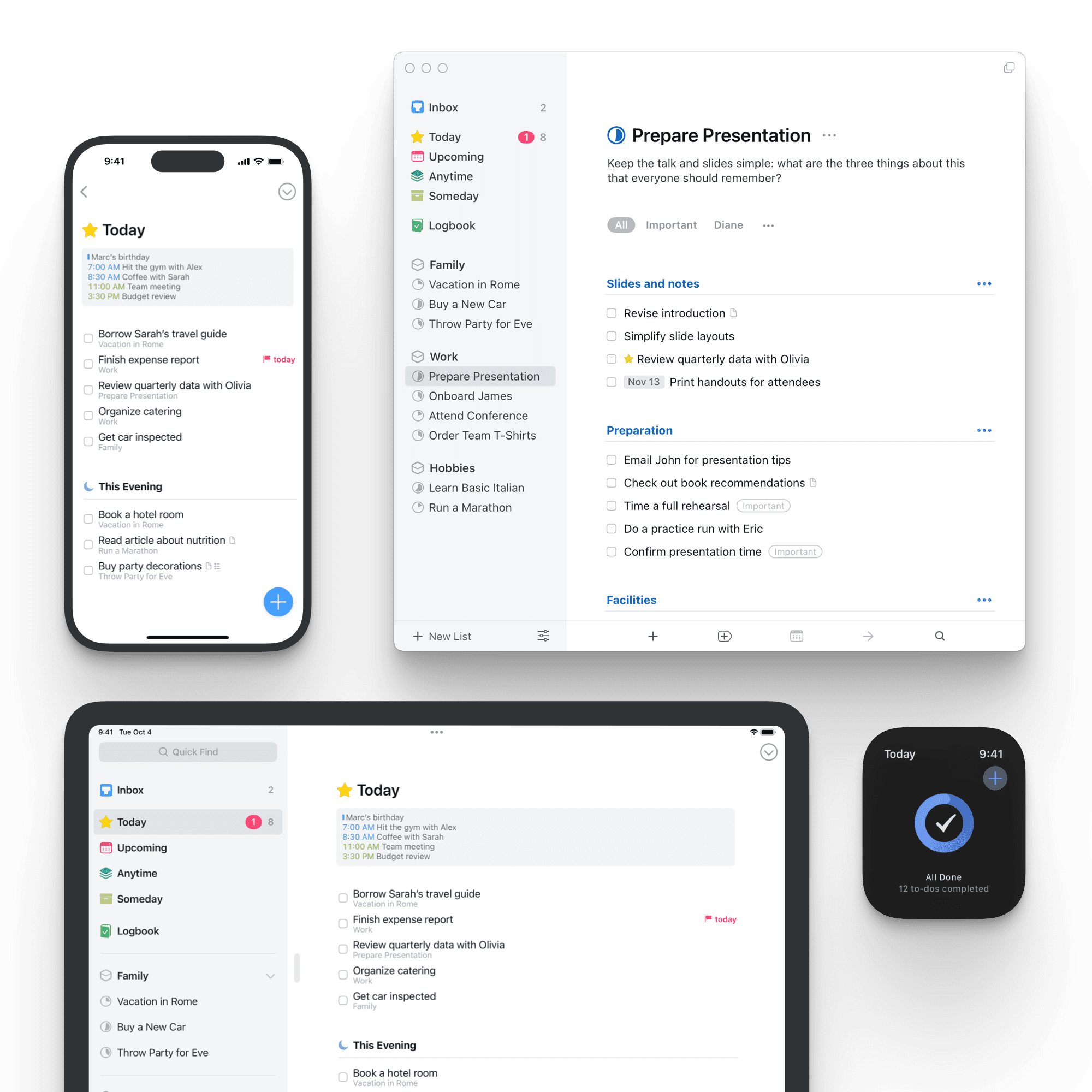 Next on our list of daily checklist apps is Things. This software makes it easy to create new tasks and manage them with a user-friendly interface. It's a mobile app with no free version but has a low, one-time payment. Although it's expensive compared to other mobile apps, it's affordable compared to the monthly fee of other options.
Things best features
Share checklists with others so everyone working on the same task list can collaborate effectively
Create projects to better organize your task lists and track your progress on a collection of related tasks
Copy and paste lists from other apps, and Things will automatically format them into a checklist
Search your projects and checklists for a specific task to quickly complete or modify it
Things limitations
For a mobile app, the pricing is a bit high for some users
It does not support collaboration as well as users would like
The app can be difficult to navigate
Things pricing
Things ratings and reviews
App Store: 4.8/5 (22,800 reviews)
10. Microsoft To Do
This Microsoft product is an easy way to organize tasks within the Microsoft ecosystem. This to do list app will sync with other Microsoft products, so you or your team members can access and use it easily.
Like the Google offering, Microsoft To-Do lacks some of the key features of more sophisticated solutions but provides a simple way of adding tasks. For basic checklist software needs among users of Microsoft products, it's a great solution.
Microsoft To Do best features
Integrate your lists with many products in the Microsoft ecosystem, such as Outlook and Teams, to keep data in sync
Sync data automatically across any device that makes use of the app or connected Microsoft products
Get started quickly, even as a beginner, with its simple and easy-to-use interface
Collaborate on tasks easily by sharing and working on them with your teammates or others
Microsoft To Do limitations
The simple design leaves the app without some features of more dedicated products
Reliance on the Microsoft ecosystem limits collaboration options compared to some of the competition
Microsoft To Do pricing
Microsoft To Do ratings and reviews
App Store: 4.7/5 (189,900 reviews)
Google Play: 4.7/5 (289,000 reviews)
Check out these Microsoft To Do alternatives!
Stay Productive in 2023 with Daily Checklists
Go beyond simple stand-alone checklist apps, and power up your tasks with project management software with built-in checklists (no third-party integrations needed).
ClickUp's project management and productivity platform includes the ability to create and manage checklists, including assigning to-do items and setting due dates, all while tracking the progress of these tasks and deadlines across a project's entire lifespan.
And best of all, we offer checklists and to-do tracking at all tiers, including our Free Forever Plan!