Looking for the most powerful free project management software in 2023?
There's no doubt that project management software helps you become more productive in managing your workflow.
How do we know?
Because you can track tasks completed, the time spent, and compare that to your performance over the long run.
And when you use project management software correctly, most of the challenges of managing virtual teams go poof.
Project success requires the right tools and processes, but you don't have to break your budget to stay on top of projects. Instead, take advantage of these great free project management software options that will keep your agenda organized and ensure your team is always on track.
If your team has never used any project management software or tools before, this list will give you a great head start regarding the different options to try out.
In this article, we'll highlight the top options and help you find the best free project management software that will fit your team, your personality, and your needs, no matter what task you need to accomplish!
Read our related articles on the best task management software and product management tools.
Let's begin our search.
25 Best Free Project Management Software in 2023
Here are the 25 free and easy to use project management software to help you start managing projects right away.
ClickUp is the ultimate free project management software that offers comprehensive solutions for teams to efficiently handle all types of work, collaborate on tasks, and streamline complex workflows. With ClickUp's flexible Hierarchy infrastructure, you can effortlessly organize even the most intricate projects into manageable tasks and subtasks, all in one convenient location.
Take advantage of a wide range of customizable features to transform ideas into actionable plans and create milestone-focused project roadmaps. Additionally, ClickUp seamlessly integrates with over 1,000 work tools, including Slack, Google Drive, Figma, and Loom, enabling you to enhance your project management process, drive progress, and foster closer collaboration among team members.
What you get in the free version of ClickUp:
Most companies demand premium prices for what ClickUp delivers for free.
You enjoy access to unlimited users, tasks, and multiple product features in the Free Forever plan. There are no limits to which task management options or which project management features you can use!
The result? An effective project plan, every time
Customized views: Do you prefer to see your tasks on a Scrum board or a list? Organize and view your tasks in a List, Box, Gantt chart, Board, Table, or Calendar view. Additionally, you and your team can switch between different views with just a click. Select a view that works best for you, and quickly find the task you're working on
Workload Management: Easily allocate resources using Workload view and Pulse to gauge your team's current workload. Recent studies show that nearly half of American employees feel burnt out. If you're running a remote team, this can instantly boost your team productivity!
ClickUp Dashboards: Access high-level views of everything in your Workspace. With Dashboards, you can use Customizable Widgets to gain important insights on people, Sprints, projects, tasks, and more. Dashboards are also great for Agile project management and product development.
Assign Comments: Do comments slip through the cracks? Assign Comments as a task, and set up specific dates and times to follow up. This feature makes remote project management super easy
Priorities: Is your team unsure of which tasks are most important? Set up custom priority levels and collaborate on various tasks based on their urgencies and importance
Reminders: Don't let important tasks, start dates, and due dates slip from your memory with ClickUp's Reminders. Need to save time? Create Recurring Reminders instead
ClickUp Goals: Set Goals for your whole team. Track Targets like numbers or a simple yes/no. You can also use this to set weekly sprint goals for your Agile and Scrum software projects.
Mind Maps: Visualize your thoughts and ideas with Mind Maps
ClickUp Whiteboards: Visually collaborate with your team in real time! Project management whiteboards are the fastest way to bridge the gap between brainstorming and getting work done. Link to tasks, files, Docs, and more.
Custom Fields: Set up project management the way you want it. Add columns for contact info, notes, project budgets, etc.
Custom Task Statuses: Create Custom Task Statuses to track project progress
Gantt Chart view: Create effective project plans, manage project closures, and manage dependencies with ease. Using Gantt Charts, you can also quickly schedule multiple small and complex projects
Drag and Drop: This is a key feature, especially if you have multiple teams in ClickUp. Drag, drop, move, and re-assign tasks to people, clients, or Teams in just a few steps, no annoying menus required.
ClickUp is conscious of how work actually gets done, which sparked our motivation to obsessively create features to enhance productivity. And because ClickUp interacts with so many essential team collaboration tools, your team will hum along as it's always done… just faster and more efficiently on multiple projects.
It doesn't matter if you're an individual user or project manager, ClickUp has you covered. 😊
There's a free plan available to your team, along with an upgrade to unlimited storage for just a few dollars more a month. Feel free to try out the free version with all the features, and upgrade to unlimited storage at any time.
Free Forever Plan (best for personal use)
Unlimited Plan (best for small teams ($7/member per month)
Business Plan (best for mid-sized teams ($12/member per month)
What people think about managing projects for free with ClickUp:
"Clickup has so many great tools to grow our team and I'm always finding better and faster ways to do things. We have seen tremendous productivity growth in our team since using Clickup." – G2Crowd
"ClickUp has completely changed how I work. I cannot imagine not using it. It has almost gotten to the point where if it isn't on ClickUp, I won't be doing it. It takes some getting used to, but once you get the hang of it it becomes exponentially useful." — G2Crowd
"While we had already been using ClickUp, we started implementing an agile approach and using sprints for our team. ClickUp has been invaluable in this regard! We are more productive, have better oversight regarding what everyone is busy with, more transparency and are better able to communicate with the rest of the company regarding expected completion dates. The online resources are brilliant to learn how to make the most out of ClickUp. I cannot recommend this tool enough!" — G2Crowd
2. MeisterTask
Any Kanban board fanatics in the house? MeisterTask is the way to go for you guys. This project management software tool tries to make Kanban boards more practical.
Your tasks, comments, notes, due dates, etc, are all set up like Kanban boards in one place. It's a flexible project board and cloud-based project management tool.
But is it flexible enough to fit your project workflow?
Well, in MesiterTask's free version, you can't create any timeline or agendas.
*project management has left the chat*
What you get in the free version of MeisterTask:
Unlimited projects and unlimited users
Two integrations (Slack or Zendesk)
Checklists, comments, tags, task and time tracking features
User-friendly interface
File sharing and attachments (up to 20MB)
What people think about managing projects with MeisterTask:
"The one thing I'm not really happy with is the inability to batch move tasks from one section to another. I don't know why we can do that! You can only move one task at a time. Also, the scroll bar is pretty small and hard to click on because it's pretty skinny. The free version doesn't support recurring tasks, so that's something to be aware of if you are not going to pay for it." – Capterra Verified Review
"I wish the free version had more projects – something like 4 to 6 would be great. My budget may allow me to purchase the full (I think Pro) version. I am using this for just myself right now, but can see how a business could make use of it. Like most To-do apps, a decent snooze feature is lacking. Sometimes I am in the middle of working on a task and need a few more minutes to finish up – snoozing an upcoming item is always helpful." – Capterra Verified Review
3. Nifty
Nifty is a free project management tool that aims to keep you focused on managing your work, not tool. Collaborate with your team and clients in one app with a variety of features like chat, tasks, docs, and calendar. Create a proposal for your projects and automate your progress tracking.
Set goals and timelines, collaborate on tasks, establish a knowledge hub, create docs and wikis and balance workloads.
Visualize your project in Nifty as Milestones (similar to Gantt view), or choose from its other three views including Timeline, its board-like Swimlane view, or from a birds-eye with Master overview.
What you get in the free version of Nifty:
Unlimited team members, guests, and clients
100 MB storage space
2 projects
Tasks, Milestones, Discussions and Docs
Workflow Automations and Custom Roles and Permissions
What people think about managing projects for free with Nifty:
"Nifty is a product that excels in many client environments. Its ease of use makes it a powerful tool for managing our client portfolio." — Stefan Schmidt, Executive Partner, Hemmersbach
"Nifty is still in its early days, you might find some bugs here and there, but the team is always very fast to respond when you report something or if you send a feature request. Regarding its interface, there's nothing to dislike. I think Nifty is headed in the right direction, it just needs a bit of time to mature, but in the meantime, it's perfectly functional and does what it says, making project management easy." — G2Crowd
4. Trello
Trello has become a popular free project management app in the last few years by introducing the Kanban board approach to the masses. And you can use it even if you don't use Agile or Scrum project management methodologies.
However, Trello isn't perfect.
Not a fan of Kanban boards?
Sorry, but you have nowhere to flee since Trello doesn't have any other kind of views. If you're looking for a free kanban board, Trello might be right for you! For further visualization capabilities, you may want to explore other free options.
Check out our Trello and ClickUp comparison and list of Trello Alternatives.
What you get in the free version of Trello:
Unlimited boards, task lists, cards, users, checklists, and attachments
One integration per board
Up to 10MB for files
What people think about managing projects for free with Trello:
"So far Trello is doing a great job. What is advertised is done as expected. The only thing I will like to mention is the modern user interface. I would really like to have a new and fresh look for this software which will make the user experience more effective." — G2Crowd
"Trello is a great tool, but it's restricted in terms of the projects it can manage. Trello is ideal for little tasks, but not for large ones." – Capterra Verified Review
5. Wrike
Wrike is a simple project management tool that works well for small teams.
They also have an activity stream dashboard that helps you see who's working on what. Their issue tracking can help a range of development teams too.
But can its free version solve all your project management issues?
Unfortunately, no. Wrike's free version is quite limited. You'll lose out on their best features and a ton more until you upgrade to their premium plan.
What you get in the free version of Wrike:
Tasks, folders, projects
File sharing
Table view
Inbox
iOS and Android apps
Unlimited users
No time restrictions
Board view and Spreadsheet view
Task & Subtask Management
File sharing
What people think about managing projects for free with Wrike:
"Sometimes changing some options will affect all the folders; other times you want an option to be applied to the sub-folders, but it will only be applied to your main folder. Setting up the tool can be quite a long process without adequate training" — Technology Advice
"Honestly, there is not much I would change or dislike about Wrike. The only that would be helpful is if there was an easier way to have conversations in wrike transfer over into our google emails. I sometimes forget to check my Wrike messages, and therefore wish I would get the messages synchronously in my email." — G2Crowd
Not sure about Wrike anymore? Take a look at our Wrike and ClickUp comparison!
And for good measure, here are the top 9 Wrike alternatives.
6. Bitrix24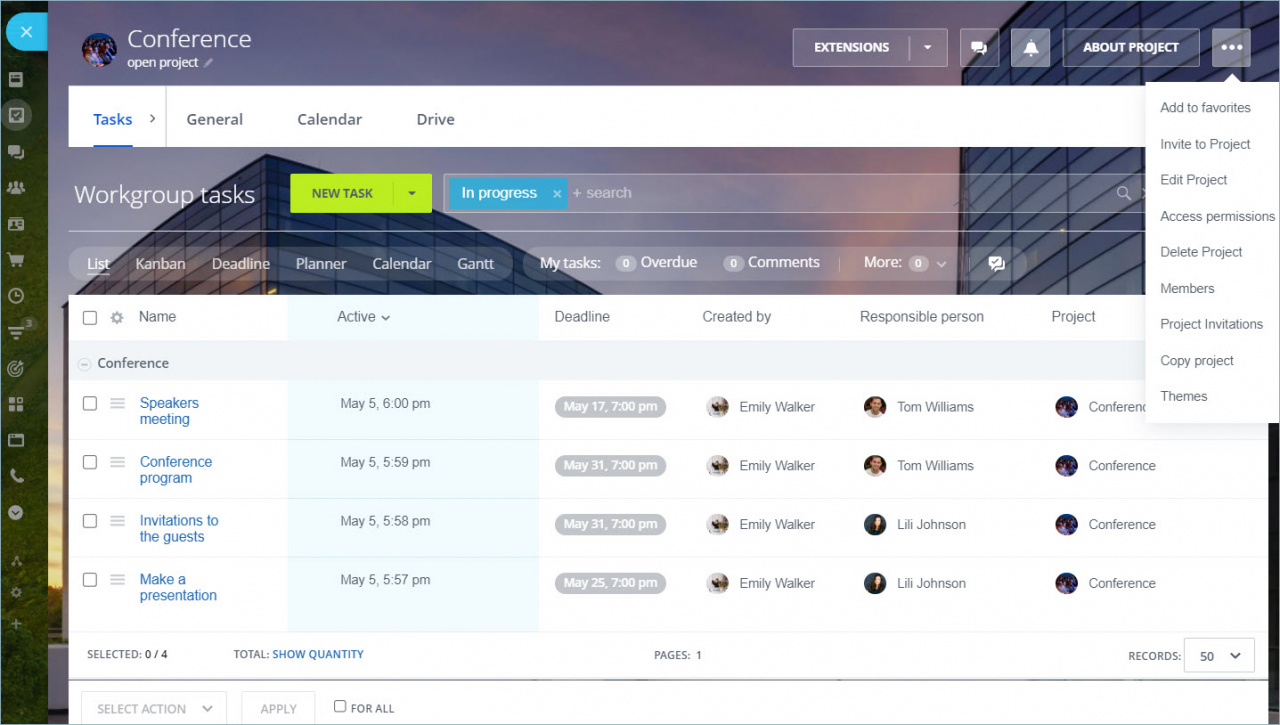 Be a master of none or a niche player? That's an age-old question.
Bitrix24 is an intuitive free planning software and project management solution that tries to solve multiple business needs at once. Great for some businesses, especially small businesses, but it kind of depends on both your personality and your team's habits.
The annoying bit is, you're probably using several of these tools already. In that case, integrating may be better than going all out for a one-stop-shop solution that's confusing!
But as a free project planner, it offers you tasks, Gantt charts, and task dependencies. The only cap is with the number of users and storage.
What you get in the free version of Bitrix24:
Task management
Kanban boards
5GB of storage
12 users
What people think about managing projects for free with Bitrix24:
"Bitrix is riddled with whimsical graphics that smooth over the transitions from page to page. They ultimately slow down the experience and draw the eye away from the more critical business elements of the page. On top of that, helpful reminders reminiscent of 'Clippy' show to block key functions of the page, making them hard to ignore and, at the end of the day, frustrating." — G2Crowd
"I liked all the features and functionality it offers but since the interface was too cluttered with things my team didn't need it had a negative impact on productivity since it took too long to find things." – Capterra Verified Review
7. Hive
Hive is a project management platform that helps teams work together online, whether they are back in the office, fully remote, or mixing the two with a hybrid model. Hive Solo, the platform's free-forever plan, offers full project management functionality for teams of 1 or 2. This makes it one of the best free project management software for small teams, freelancers, and entrepreneurs.
With its simple user interface, Hive makes it really easy to get started right out of the box. And with all of the standard task management and collaboration features, there are plenty of useful tools to keep your team organized, no matter where you're working.
What you get in the free version of Hive:
Unlimited storage
Unlimited projects and tasks​
Unlimited collaborative notes
Gantt, Kanban, calendar & table views​
Email in Hive​
Native chat messaging​
What people think of Hive:
"We recommend using Hive for project management for companies of all sizes and all natures. Hive can adapt to the nature of work you do and it can be easily adjustable to your work style. So, why not get a good platform that knows the project management work and will ease your life in the longer run." – James Cooper, G2 Reviews
"You do not need to be a qualified project manager to get the immediate benefits of using Hive. The interface is very intuitive and it's easy to see how your project is looking within 10-15 minutes." – Gary Bright, G2 Reviews
8. nTask
nTask is a simple but powerful project management solution that makes it easy to manage complex workflows.
Made to bring project teams on one place, and collaborate to achieve business goals. The platform's simple structure, and ability to create unlimited workspaces is loved by users. It gives a bird's eye view for the project progress to help managers making effective decisions.
However, the basic free plan has no reporting tools and Gantt charts feature.
It is a useful tool to manage project budget, project planning, task management, time tracking, and managing risks.
The tool helps you to create custom fields and statuses for the project. We wish to see a better team communication feature in projects, rather than just task comments.
Here's what you get in the free version of nTask:
Unlimited workspaces
Five team members
Timesheets
Issue tracking
Unlimited tasks
Meeting Management
What people think about managing projects with nTask:
"The good thing about this type of tools is that it centralizes everything in one place, the work is done in an organized way, with due planning and with the least number of errors, from the Gantt diagram view you can visualize the progress and determine the strategic line of your projects, and it is pleasant to look at." – Capterra Verified Review
"nTask in generally is an awesome product but there are some stumbling blocks. It offers limited integrations and steep learning curve. One can face some problems when using it for the first time. The calendar view functionality should be more elaborated." — G2Crowd
9. Asana
Asana is a very well-known project management software tool that's used by a lot of teams.
Users generally like Asana because it's a visually appealing tool that utilizes projects and sections to keep work organized and gives the team clarity about who's in charge of what in your project planning.
This project management software is simple to use compared to most other project management software solutions. You can quickly move your task and assign work with their drag-and-drop feature.
What bothers us is Asana's reliability with its rapid growth. And all we want for Christmas is less downtime!
Not sure about Asana? Check these Asana alternatives to compare Asana's features with ClickUp, Trello, Monday and more!
Here's what you get in the free version of Asana:
Unlimited tasks, projects, and conversations
Basic dashboards
Basic search
What people think about managing projects with Asana:
"Asana's feature set and complexity require a relatively steep learning curve for the uninitiated. That hampered roll-out efforts in my organization, along with the fact there is no desktop app for Asana. After nearly a year, I'm still figuring out all the features and best uses, so it would be nice to have a variety of case studies/examples from which to glean best practices." – Capterra Verified Review
"Overall, we love Asana as a robust project management tool for our team, but it takes a good deal of adapting and getting used to before you hit your stride with it." – Capterra Verified Review
Take a look at our Asana and ClickUp comparison!
10. Todoist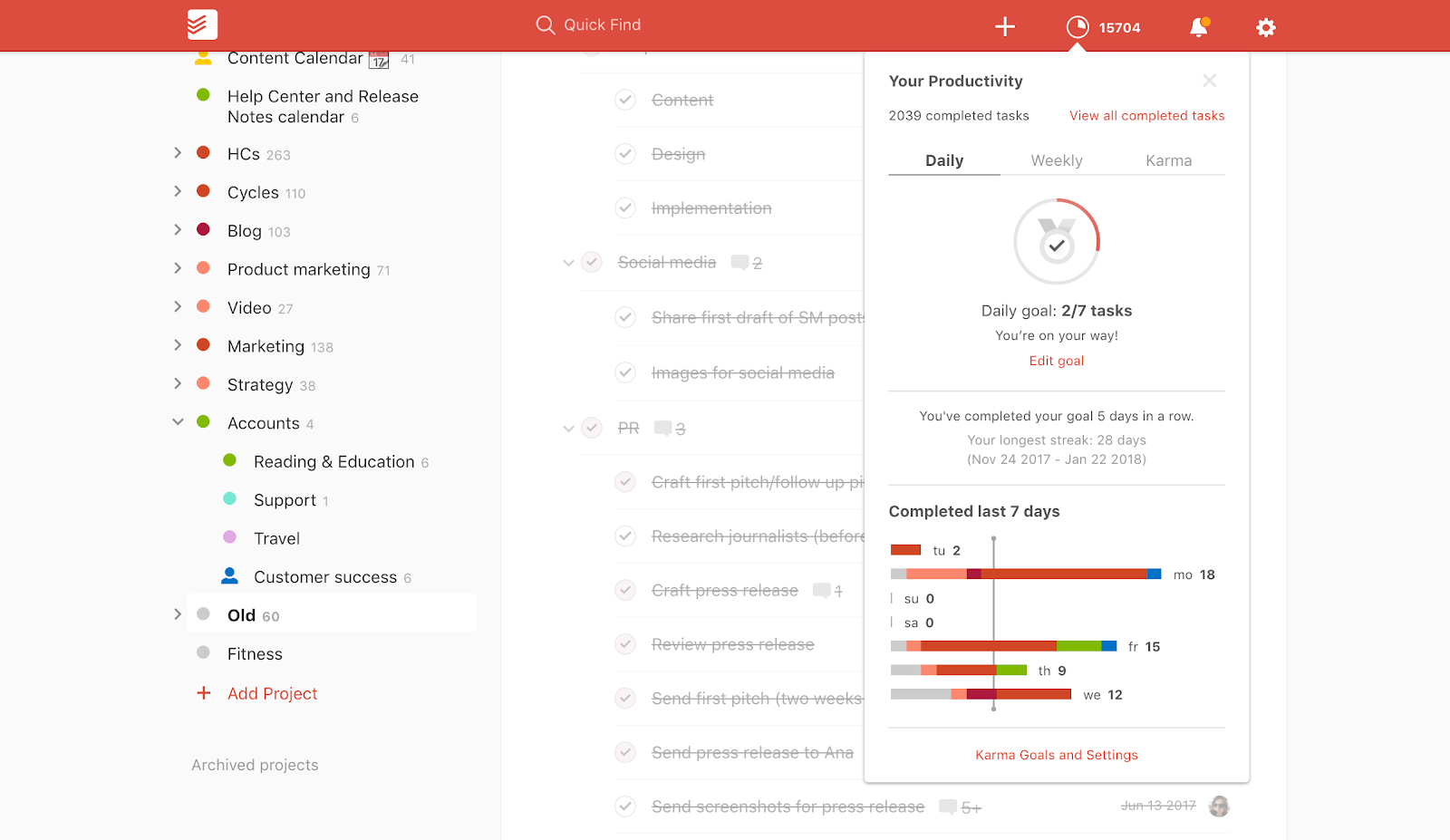 In Todoist, it's easy to quickly capture thoughts and ideas on your phone and then get reminded about them later.
You can plug in deadlines, like pay bills in three days, and the project management app will automatically remind you.
However, you don't get any real-time collaboration features in the basic free version.
Also, did you know Todoist was built as a personal task management app and not as a project management app for businesses and team collaborations? So to easily manage your teams and their tasks, you'll have to opt for the paid plan or a different tier version.
Read our take on Todoist vs. ClickUp and learn about other top alternatives to Todoist.
Here's what you get in the free version of the Todoist app:
Access on 10+ platforms
Recurring due dates
SSL secured connection
Sub-tasks & sub-projects
Task priorities (four levels)
80 Active projects
Five people per project
What people think about managing projects with Todoist:
"I haven't found a way to get integration with Google Calendar in a way that works for me. It syncs tasks, but the manner in which it does so isn't fluid with the way that I work, so that is probably due to user error or my personal preference and less likely a reflection of the program." — G2Crowd
"I use ToDoist to keep track of tasks sent to me by clients. I don't use it for project management, extensive notes, or workflow so much as a simple to-do list of projects that need to be completed. Sometimes you don't need to write a lot of details – you just need to be sure you do the task and todoist is the best software I have found for that." – Capterra Verified Review
11. Airtable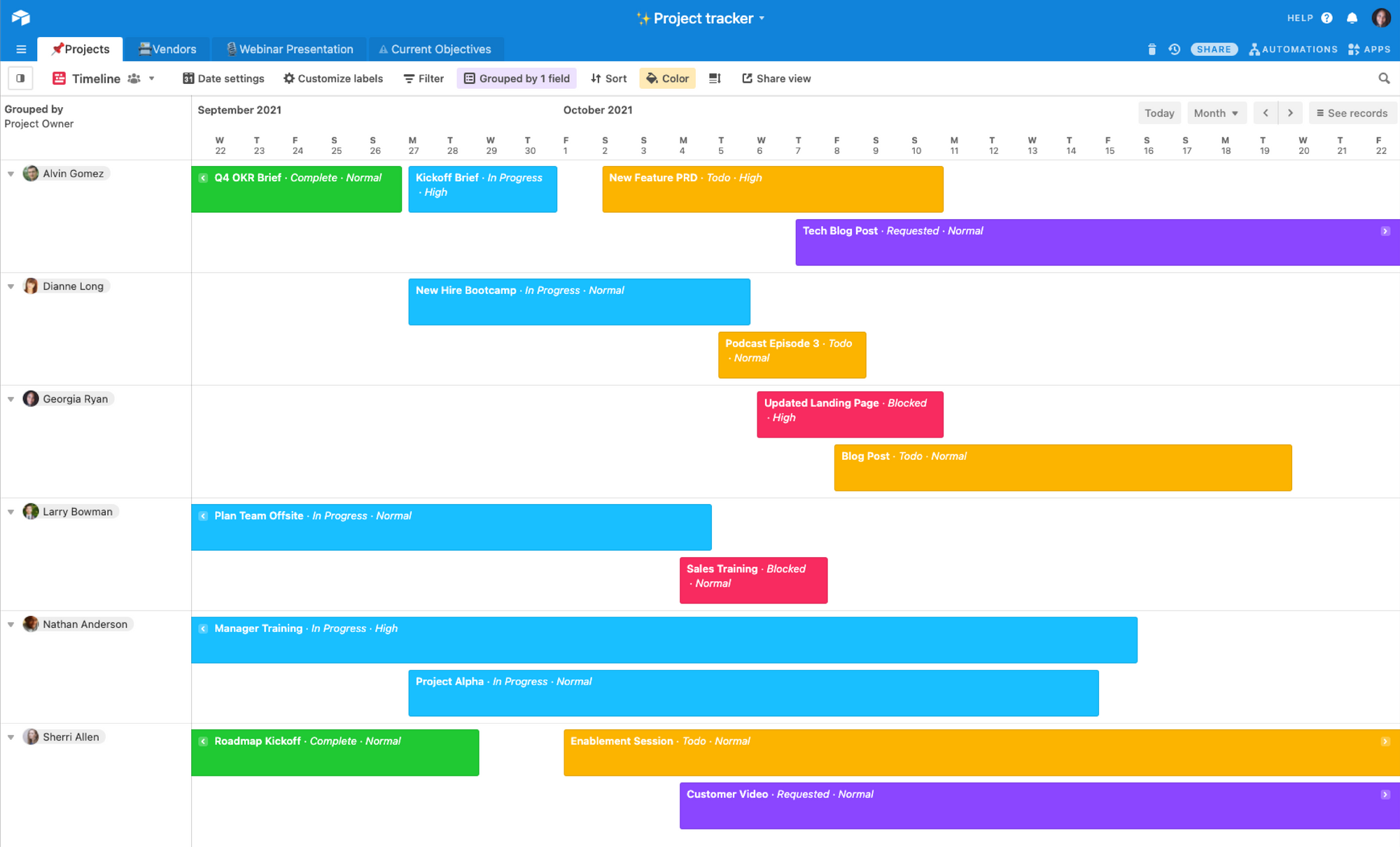 Airtable is a beautifully designed, table-meets-database solution. It takes what you love about Excel and Google Sheets and puts a modern web-based project on it.
Think of Airtable as a fancy spreadsheet that helps you track inventory, lists of reference items, or as a bootstrap CRM.
Essentially, Airtable is a super-friendly, non-intimidating database for the 21st century, disrupting traditional database management systems that rely on SQL or other complex languages.
If you've used Excel as a project management tool in the past, then you may want to look at Airtable. However, we don't recommend spreadsheets for project management.
Why?
Because dedicated top free project management tools do the job better!
Bonus: Read about Airtable's best alternatives.
Here's What You Get In The Free Version of Airtable:
Unlimited bases
Unlimited scheduling views
Rich field records
Commenting
2GB of storage
Two weeks of historical data
What People Think About Managing Projects with Airtable:
"I love Airtable because I am able to build simple but useful custom programs and databases while knowing basically zero code. Although there are really key features that stop Airtable just short of perfect, it is still leagues better than a normal spreadsheet for sure." — Capterra Verified Review
"I hate that it doesn't have reminder/follow up capabilities especially knowing they advertise as a team collaboration tool that's used for customer service." — G2Crowd
Compare Airtable and ClickUp for project management.
12. TeamGantt
Like how Gantt charts make everything clear as day?
Then TeamGantt is made for you.
It's a free project management software with a sole focus only on Gantt charts.
This software tool is impressive at building out and visualizing Gantt charts so you can see what tasks may overlap and who's responsible for what.
It's also a great tool for measuring team and individual progress against project milestones.
The funny thing is for a software that takes pride in their Gantt charts, you get just ONE Gantt chart in the free plan. Yikes!
Here's what you get in the free version of TeamGantt:
One project
Basic project planning and collaboration
Three users
Team availability and workload
What project managers think about TeamGantt:
"The free version only allows one project. The next step up is not that expensive though." — G2 Crowd
"I like the versatility and easiness when using this program and managing tasks." — Capterra Verified Review
Looking for great Gantt chart software? Read our article on the top free Gantt Chart software and if you're a construction company, our article on the best construction project management software.
Check out these TeamGantt alternatives!
13. Teamwork Projects
Teamwork Projects is a very well-known project management system or software geared more for audiences needing enterprise management with single sign-on, HIPAA compliance, and premium support.
Their paid plans have many feature options for teams and offer a suite of tools such as billing and invoicing.
However, their free tier is quite limited.
Many clients and teams will pony up for those advanced features, but it's a risk if you don't want to be locked into a long-term pricing plan. For instance, in the Pro plan, you get lots of integrations such as Dropbox and Slack, way more storage, and up to 50 users.
What you get in the free version of teamwork projects:
Two active projects
Limited task boards
Subtasks
Color themes
What people think of Teamwork Projects:
"The software seems to be popular just in Europe, so there are a few third-party apps which have developed something connected to Teamwork, but it has access to the API and webhooks to compensate." — G2Crowd
"Teamwork excels at tasking and basic project management, but don't count on it for any company or portfolio insights and/or big picture views. This is a good tool for small teams that worry about pipeline and traffic control but not for large interconnected teams that require account management, efficiency evaluation or budget oversight." – Capterra Verified Review
Try out these Teamwork alternatives!
14. Freedcamp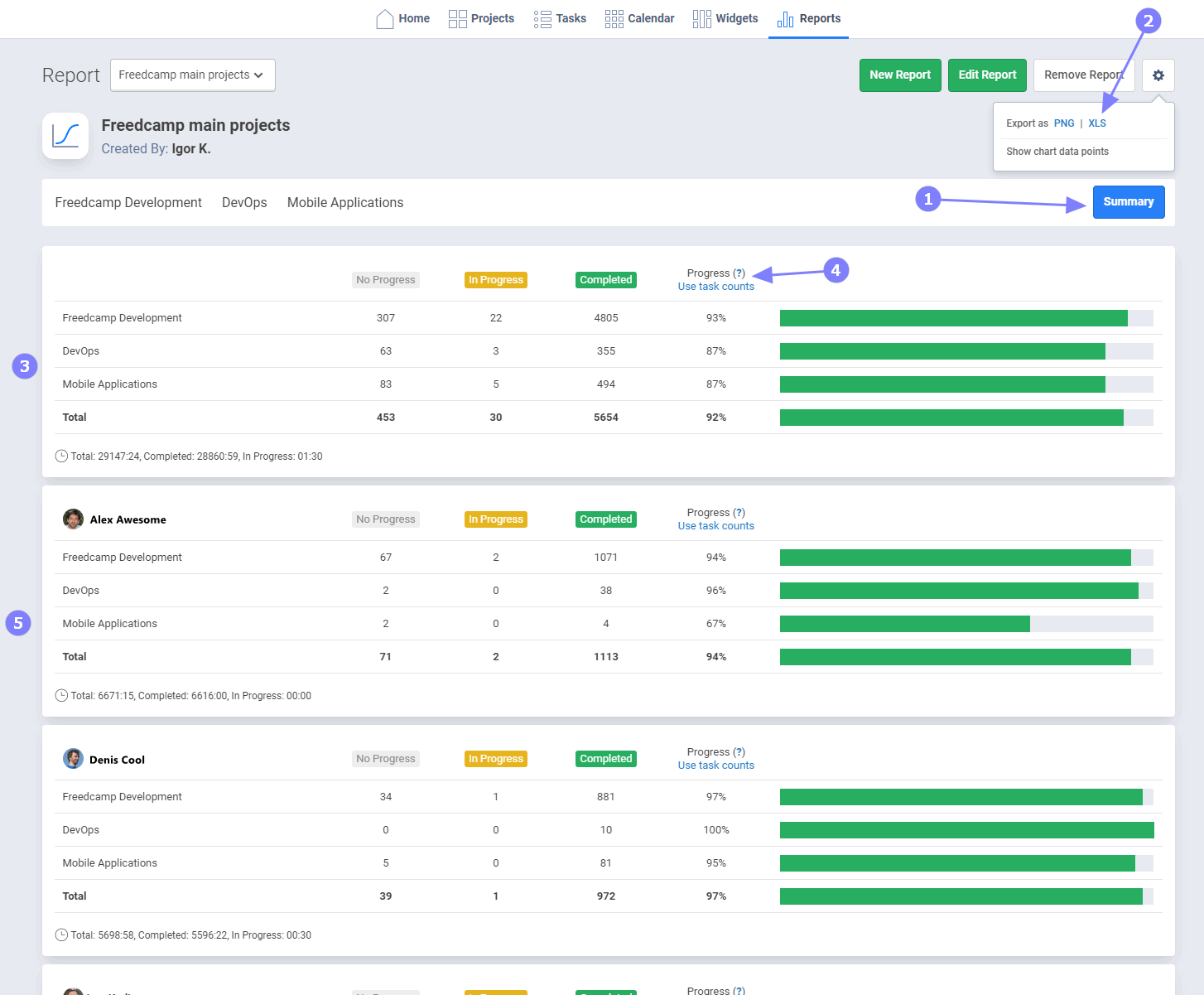 Freedcamp gives you multiple views, including a list, Kanban board, and Gantt chart view.
It also has a wall for social communication and private tasks, along with white labeling for client spaces, invoicing, and CRM capabilities.
But here's the thing, the free plan is very limited, and the paid plans begin at $1.49 per user per month.
And in their own words, it's a "minimalist" plan!
We wish that they went even more minimalist with a free plan, though.
Here's what you get in the free version of Freedcamp:
Unlimited users and tasks
Time tracking
Discussion boards
Password manager
Personal task manager
Subtasks
What people think about Freedcamp:
"Freedcamp does not update as often as I would like. Software should constantly be changing to stay relevant with trends and industry needs." — Capterra Verified Review
"I don't like the fact that it has no mobile application. That would be great to communicate and manage tasks straight from the mobile." — G2Crowd
15. Redbooth
Need to streamline your team's work and to help them focus on your most important tasks? Redbooth has you covered.
It features a simple, user-friendly interface that helps teams feel comfortable right away. Managers feel empowered to change workloads and resources very easily.
On the downside, Redbooth doesn't let you assign tasks to multiple people.
Clearly, the fact that there's no "I" in "team" doesn't apply here.
Here's what you get in the free version of Redbooth:
Assigned users
Tasks
Gantt charts
Conversations
2GB of storage
Community forums/email support
What people think about managing projects with Redbooth:
"Redbooth is really just good for a supplemental side kick role software. Like in our company we use it is supplement to Procore. It defintely has its limitations, but it serves its purpose." — Capterra Verified Review
"It's super fresh and flexible. Seems like the best thing since sliced bread when you start using it! My team thought it was going to be great." — Capterra Verified Review
Check out how ClickUp compares to Redbooth.
16. Basecamp
Basecamp is a popular project management and team communication software for easy team collaboration.

One of the main cons of Basecamp is that it does not provide the same level of customization and flexibility as some other project management software. While basecamp is designed to be an easy-to-use platform, its rigidity can make it difficult to tailor the software to specific projects or teams.
If you're looking for a simple task manager with real-time communication features for your team members, then Basecamp can be a great pick.
But the a free version, it's quite…stingy when it comes to other features.
Take a look:
Here's what you get in the free version of Basecamp:
20 users
Three projects
Storage space of 1GB
What people think about managing projects with Basecamp:
"When it was used for a small team to collaborate, it was great. When I started using it for client communication and deliverables, it frustrated both me and my team." — Capterra Verified Review
"Overall, Basecamp is a solid product that I use almost daily to manage projects. I haven't had any major issues with the software but would like to be able to easily reference tips and tricks to improve my workflow." — Capterra Verified Review
17. ActiveCollab
If you're a fan of simple design, Kanban boards and a sleek UX, take a look at ActiveCollab. An easy-to-use tool that allows you to streamline projects, communicate with your team, and collaborate with clients.
Divide projects into tasks with flexible start dates and deadlines that you can assign to the team or invite clients to view as needed.
ActiveCollab can be visualized as a list or in Kanban view, has an integrated stopwatch to track time on tasks and has an integrated app to chat or share files.
What you get in the free version of ActiveCollab:
Up to three members
Unlimited projects and clients
Task dependencies and automated scheduling
Mobile&Desktop app
What people think about managing projects with ActiveCollab:
Our team manages all of our projects through ActiveCollab, and that includes budgeting, tasks, and time management. Without it, we'd be lost in a sea of emails and Slack messages." — Capterra Verified Review
"I wish it would connect to other project management tools such as basecamp, asana, etc. I work with many contractors and vendors and if I could do everything in active collab, then it would create a ticket in their platforms, it would be awesome." — Capterra Verified Review
18. Paymo
Paymo is a free project management software for single users and team managers looking at resource management. It also offers Kanban boards and time tracking that allows freelancers to keep track of time tracked for every client easily.
What's the biggest downside?
Paymo's free plan can only cope with a single user.
What happens when your team grows?
You either need to start paying or migrate to an entirely new platform.
Here's what you get in the free version of Paymo:
One user
1GB of space
Reporting
Time tracking
API
What people think about Paymo:
"Absolutely love the granular control on the reports and ability to manage users, projects, tasks and more." —Capterra Verified Review
"I would recommend this service to every middle sized company, which is looking for a good solid isseu tracking software." — Capterra Verified Review
19. Podio
Podio is almost like a cocktail of free project management software and messaging tools. It offers conversations in the app, and you get an overview of all your tasks.
It supports numerous integrations with popular software like ZenDesk, Evernote, and Google Drive.
What it doesn't support is workflow automations in the free plan.
Here's what you get in the free version of Podio:
Five users
Integrations
Unlimited workspaces
Chat capabilities
What people think about managing projects with Podio:
"Reliable communication with the team through the chat function. Good personal task management and also knowledge management. Even though we stored our files in a cloud service, we 'indexed' and sorted our knowledge through Podio." — Capterra Verified Review
"The Podio CRM system is customizable to your personal needs. You can easily create separate workspaces and add the apps needed for ease of access and organizational needs." — G2Crowd
20. Hitask
If your team isn't large and don't want to pay for a project management tool, take a look at Hitask. This free project management software is free for up to five users and gives you unlimited tasks and projects.
You'll also get half a gigabyte of space.
Any downsides?
Hitask's free plan doesn't allow any sharing.
Here's what you get in the free version of Hitask:
Up to five users
Unlimited tasks and projects
Shared task lists, projects, and calendars
0.5 GB of space
What people think about Hitask:
"This product is very easy to use, but the user interface is not very intuitive. The pricing is fair, considering what you will get in return. If you plan to use this for a personal reason, then this tool may be sufficient." – Capterra Verified Review
"Hitask is a great and reliable solution for project and task management. It has a very intuitive and user-friendly interface which makes it easy to use. It integrates with other great softwares like Google Calendar, Gmail which makes it more effective." – Capterra Verified Review
21. Zenkit
When looking for the best free management software, consider Zenkit. With Zenkit, you'll get a decent spread of features and templates for easy workspace setup.
While they do make setup easy, the 5000 item limit can be a barrier to entry for most busy teams.
What you get in the free version of Zenkit:
Unlimited collections
3 GB of storage
Up to five members
Up to five teams
What people think about managing projects with Zenkit:
"It is easy to use from day one since most tools are structured very user-friendly. I like the efficiency it provides for sharing information and tasks with my team." — Capterra Verified Review
"For free users the data storage is very low, that's the only dislike I have regarding Zenkit. Also the user interface gets too cluttered at some phases, there's a lot of scope to improve the interface." — G2Crowd
22. Toggl Plan
Toggle Plan is one of the best free project management tools for effective team planning and task management.
The software is very easy to use, and suits project managers managing small teams.
However, had you any idea there is a Toggl Track integration (for time tracking) available for Toggl Plan?
Guess who doesn't get to use the integration? You, a free plan user.
To get Toggle Track on your Toggl Plan, you'll have to cough up $8 per user per month!
What you get in the free version of Toggl Plan:
Up to five users
Unlimited tasks
Unlimited project milestones
Shared timelines
What people think about managing projects with Toggl Plan:
"I felt the mobile experience was lacking. It's amazing for long term planning, even weekly planning, but gets awkward when it comes to daily planning or planning in fine detail for timetabling. It's great for regular arrangements, but gets messy when it comes to extraordinary events."— Capterra Verified Review
"Toggl has made some great UI changes in recent years, but a more robust way of customizing your interface and views would be a bonus, especially since this is a program I use nearly all day and check in with frequently. Some additional timer views or even color themes would be fun." — G2Crowd
23. Zoho Projects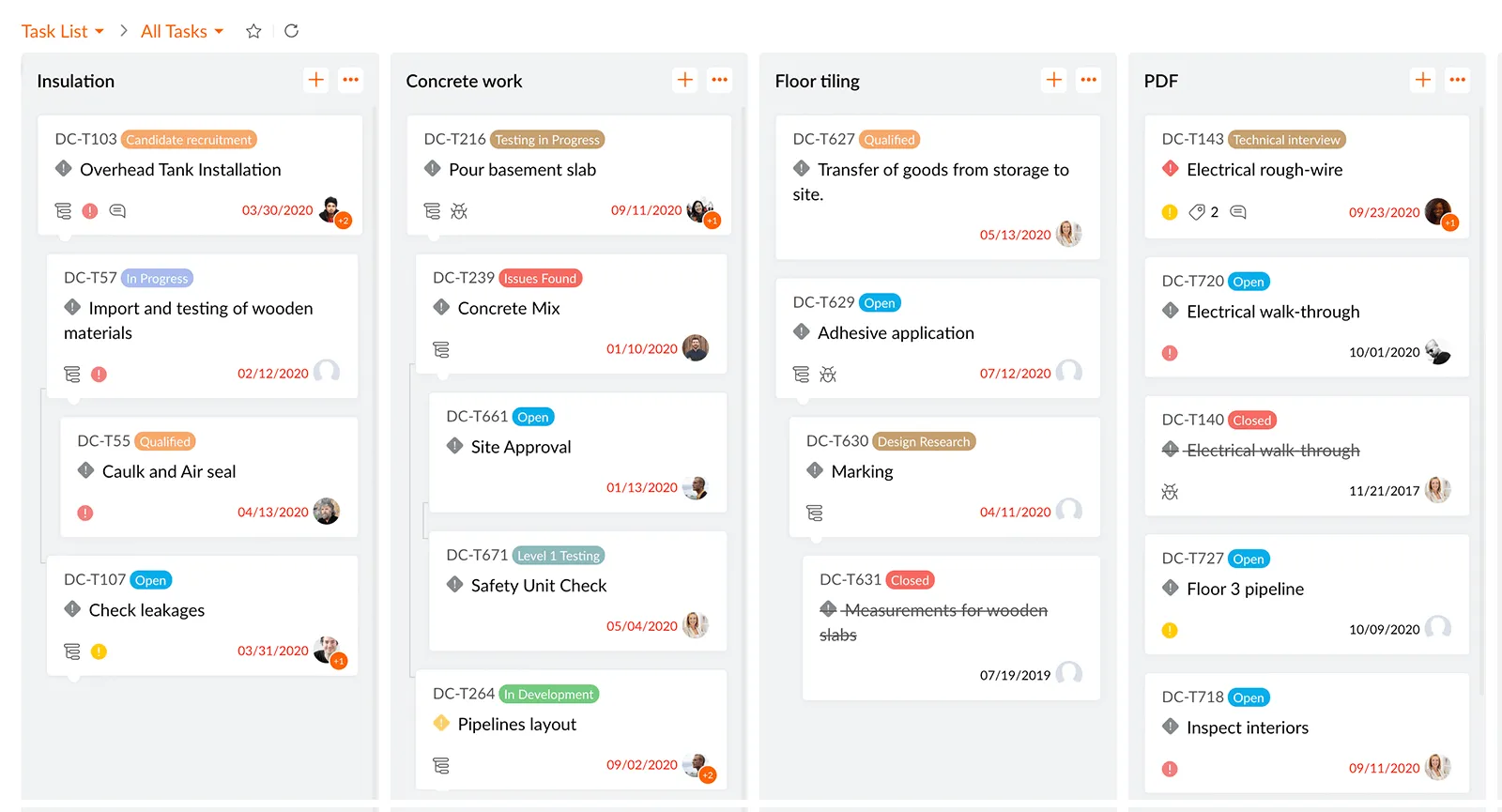 Zoho project is another efficient project management software. Whether you need to manage documents, collaborate with your team conveniently, or have bugs fixed with an issue tracker, Zoho can handle it.
What it can't handle is being a bit generous with the features on their Free Forever plan.
On top of that, some people also think it's not the easiest to understand, especially when it comes to the setup.
I mean, shouldn't the setup be the easiest step of all?
What you get in the free version of Zoho Projects:
10MB file storage
Two projects
Viewer for Gantt chart
Calendar & Forums
10 users
What people think about managing projects with Zoho Projects:
"User interface can be a little confusing (difficult for newbies)."— Capterra Verified Review
"The thing which I like about Zoho projects is that it helps me in maintaining my efficiency of completing the task in a given time frame with its time tracking feature. This software is easy to integrate with other Zoho softwares and helps us in tracking the progress and maintaining the productivity of our team." — G2Crowd
Try out these Zoho alternatives!
24. Yodiz
Last on this list of free project management software is Yodiz. This software aims to simplify project planning and project tracking with smarter insights.
Yodiz is a great option for teams who use Agile and Scrum methods. You can also use Yodiz's Zapier integrations to connect with apps like Slack and GitHub or calendar apps like Google Calendar.
But for a tool that aims to simplify project planning, Yodiz doesn't offer Gantt charts even on their starter paid plan.
You really don't get what you paid for!
What you get in the free version of Yodiz:
Unlimited projects
Up to three users
What people think about managing projects with Yodiz:
"Help documentation is basic – Comparatively Fewer integrations, but with Zapier integration – now it is possible to connect hundreds of applications."— Capterra Verified Review
"It does everything I need: bug tracking, Kanban wall, user story tracking, Github integration, notifications. It's cheap, it's effective, and it's easy to use." — G2Crowd
25. Jira
Jira is a free project management tool used for bug-tracking and issue-management. It provides software development features like advanced reporting options, including user workload, average issue age, and recently created issues. This allows project managers to analyze project performance, manage issue backlogs, and make data-driven decisions to plan efficient Sprints.
What you get in the free version of Jira:
Unlimited customers
100 email notifications a day
What people think about managing projects with Jira:
"Overall, Jira is just a great tool with a fantastic user friendly interface, which overall provides a nice user experience." — Capterra Verified Review
"Admittedly, Jira can be a bit overwhelming at first, especially for new users. The myriad of features might take some time to fully explore and grasp. But once you get the hang of it, it's a powerful tool at your fingertips." — G2Crowd
Check out these Jira alternatives!
Find the Best Free Project Management Software for Your Team
Your chosen free project management software should be able to do the job. At the same time your whole team should be able to get on board and use its advantages without even considering opting for the paid plan.
The worst situation is when you enthusiastically embark on a new project tool, only to be stymied by its lack of features and functionality, baiting you into the solution's paid plan.
So why not try ClickUp?
It's got more free features than any other best free project management apps we listed here.
Whether you want to Assign Tasks, create Goals, Time Tracking, use Automations, the possibilities are endless.
So try ClickUp for free today because you deserve efficient and easy project management that doesn't burn a hole in your pocket.