Oh, the places you'll go!
That's the name of the popular children's book by Dr. Seuss.
It's a cute book. It has winding roads and people give it away as graduation gifts because it's all about finding your way, and being yourself, and to keep working hard.
And it ends with a semi-famous line: "Kid, you'll move mountains."
Look, you know it's a big deal because someone made a pillow out of it: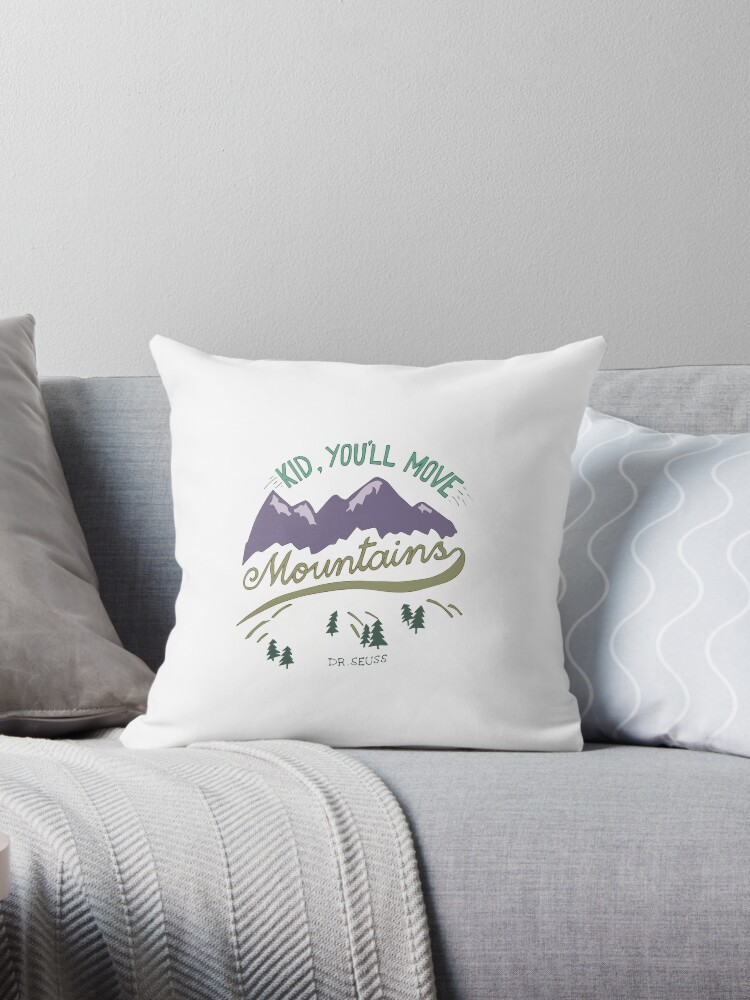 But there was always one nagging question for me–how do you move a mountain?
There are all these gizmos and gadgets in the book, but the book is light on tangible details.
Dr. Seuss gave us the hope, but not the how-to's. So where do we go for that?
Where can you find the edge to help you push forward? To move that mountain of work, goals, and personal projects?  
And to be faster, stronger, and more productive?
We put together a list of exactly that. These are the top blogs to find high-quality, actionable productivity advice. We tried to keep the life coaching to a minimum in order to equip you with resources that have insightful tips, tricks, and habits that are proven to work others and may help you move your own mountain!
NOTE: For more productivity tips, check out this guide on how to be more productive!
1. Dave Seah
As one person at ClickUp so eloquently put it: This guy is THE MAN.
And really, it's hard to disagree. Dave calls himself an investigative designer, but what does that mean? He comes up with all kinds of designs and productivity hacks (like templates and spreadsheets) that make tons of sense. He also discusses design and information technology as well, so if you're in those areas then you've got to follow Dave.
2. Lifehacker
Lifehacker is the granddaddy of them all, the biggest and most well-known. Their name says it all of course, and they range from tips and tricks on gadgets to how to dry the dishes in your dishwasher faster. That's not just work productivity of course, but life efficiency. One amazing section and ongoing feature is the How I Work column, which features different entrepreneurs, business leaders, athletes, entertainers and more about what their daily schedule looks like.
3. Steve Pavlina
Steve has been at the forefront of productivity and personal development since the late 90s and he even "uncopyrighted" all his work in 2010. HIs big focus is finding ways to free yourself from a corporate-driven lifestyle and provide value in different ways.
4. Dumb Little Man
With Dumb Little Man, you'll get a quick dose of actionable tips, but also some bigger picture topics like health, relationships, and happiness. The best section is the "How To" section which gives you a primer on everything from looking for an apartment to how to clean your camera. It also provides a steady drip of great productivity tips to improve your day and workflow.
5. Zen Habits
This is another legendary productivity blog. Leo Barbata has been running this site since the late 00s and focuses not only on mindfulness, but how to build the best and most productive habits. The blog focuses on changes one step at a time and is truly a calming presence in the crowded productivity space.
6. LifeDev
An amazing productivity site specifically designed for creative people. Because of this focus, there are tons of articles about creativity in addition to productivity. When you combine those two topics–how creative people can be more productive–it speaks to a certain right-brain mindset that is *gentler* than a lot of other efficiency-driven blogs out there.
7. Pick The Brain
Erin's work sweeps across the productivity and self-improvement landscape to focus on how people can lead more satisfying lives overall. To that end, many articles tackle mental health, psychology and self education.
8. Barking Up The Wrong Tree
If you're looking for evidence-based tips and scientific inquiry into productivity and performance, then Eric Barker is the blogger you're looking for. This is more than just "I tried this and it worked for me but it may not work you." This is real stuff. He also does a lot of amazing analysis on top execs and performers.
9. James Clear
James has emerged as one of the most prolific writers on the Internet, writing and researching hundreds of articles on everything from sleep to satisfaction. Much of his work is also on the mentality of productivity, discussing how to keep a sharp mind, how to remain more creative, and how to stay confident even when things don't go your way.
10. 99U
If you want to get technical (and who doesn't), 99u isn't really a productivity blog. It's more of a work-culture blog. But it's awesome. It's like the coolest, most stylish friend you know that has it altogether. They can dish out some life-changing tips and look great doing it too. The team at Adobe puts it together, and I love all of their books which are must-reads.
99u will do a deep dive into the art world and then come back up for air to discuss how that one colleague is using the office fridge. And all of its worthwhile.
11. Mark Manson
Mark is an online entrepreneur who doesn't give a f**k. No really, he wrote a book about it. And it's a New York Times bestseller. Anyone can drop the f-bomb in their art and get some attention, but Mark backs it up with an approachable style that has made him sort of a slacker guru. His stuff not only makes sense, but he's also a great writer that's always practicing what he preaches. All of his posts get tens of thousands of shares, so you've probably read a piece by Mark and didn't even know it. Check out Mark for unconventional productivity tips and self-development advice.
12. Exile Lifestyle
Colin Wright is the epitome of a digital nomad, even letting readers and listeners to his podcast vote on where his next home will be. He's an artist, marketer and entrepreneur and documents his minimalist lifestyle along with tips learned on the road.
13. Keep Productive
This is one of our new favorite sites, though it's a little different than the traditional productivity blog. Instead, it's a review blog of the top productivity apps. Francesco goes in-depth on all of the tools out there and shares his workflow stack as well. Before you decide to jump in and find a new productivity app, see what Francesco has to say first. He gives great hands-on reviews of all the top apps. You know what they say, look before you leap and Francesco can do that for you.
14. Becoming Minimalist
Josh Becker complained about cleaning out his garage to his neighbor
"Maybe you don't need all this stuff," his neighbor said.
Inspiration struck and Becker created a blog to document his decluttering and minimalist style.
This is a little different than normal productivity tips–but if you don't have to wade through stuff or look to buy more stuff, wouldn't you be more productive in your family and work life? That's Josh Becker's take.
15. Marie Forleo
There can be a gray line between life coach and productivity, and Marie steps on both side of the line. However, she believes that some strategies can work in both life and work, and explains how to elevate your business as well as your life. Anyone who follows Marie can attest to the inspiration and motivation they get from her. And her in-depth interviews with celebrities, tastemakers and scene setters are fun–plus helpful. Instead of writing everything down, she pours her energy into all types of content–the written word and great videos.
16. Benjamin Hardy
Benjamin Hardy is a little different, because he made his name on Medium, leveraging the platform's engaged audience to examine the habits of the world's most successful people. Building on that, he's tapped into a unique blend of analysis, motivation and experimentation.
Hardy, though, is more than his message. He seems to actually do everything he talks about. He is studying for a PhD and writes prolifically. He and his wife take care of foster children, which is a monumentally difficult task. To balance all of that, something must be clicking.
I love how he gives his readers a sneak peek into what his processes are like as well, like in the recommended post below.
17. Darius Foroux
What if you were to reframe your priorities in terms of usefulness, rather than productivity?
How would that change your mindset? Would you still achieve your goals?
That's the theory from Darius Foroux, an innovative writer who tackles procrastination and creativity with equal adeptness. His line drawings are also fun to follow.
18. Tynan
Tynan is kind of a legend. He's one of the pickup artists featured in Neil Strauss' now semi-classic book, The Game. Tynan gave up that life, but now embarks on epic quests and travel adventures while building out SETT, a blogging platform. He dropped out of college in 2000 and has never looked back. His advice mixes in a bit of adventure, practicality with a solid dash of confidence to help you think more clearly while giving you the confidence to lead a different type of life.
19. MakeUseOf
MakeUseOf is definitely a news and tech site, but they also throw in a great section about tools and productivity techniques. You'll find the expected life hacks and gadgets you need here, but you'll also find tons of tips for the programs you use most–like Excel, Microsoft Word or Google Calendar.
20. Todd Henry
What I like about Todd Henry more than a lot of the solopreneurs out there is that he offers key advice for collaborating. Many of those hustlers out there traveling the world are finding ways to work for themselves, which is great. But for a lot of us, we work in teams across many functions and skill sets. How can a team more productive?
Todd Henry steps in to fill that gap. He's not only talking about teams in particular, but creative teams–ones that have to brainstorm and work together to generate new solutions.
21. Brain Pickings
Maria Popova and her blog Brain Pickings is definitely a darling of the academic set. She does deep dives on historical figures and then moves back to analyze what worked and what didn't in the past. She's well-read and can draw examples and analogies from a variety of sources to make practical application. She's like the best history teacher you never had.
In other words, Brain Pickings is where all the other bloggers on this list get their ideas.
22. Asian Efficiency
A group of friends (who happen to be Asian!) got together and decided to research the best productivity systems that would help them get an extra edge.
What they give is practical advice, formulas, and more for maximizing your day and how to think strategically through each thing on your to-do list to find the most value. Their advice ranges from tech hacks to time management tweaks–not just the fluffy stuff that you've read a bunch of times.
23. Sebastian Marshall
One way to be productive is to take stock of what's around you and then maximize it.
That's the focus of this blog and Sebastian's writing.
Sebastian's focus is on taking the resources that you already have and finding a way to make them greater and bigger.
See, this is from his About page: "Marshall's goal is to help you increase your resourcefulness, resources, and have more impact with the resources you've got."
He's the definition of resourcefulness.
I'm new to Sebastian Marshall and his work, but I'm diving in.
24. HelpScout
The customer service and help desk company also has some great ideas for how to optimize your day, workflows, and productively deal with any customer problems that may arise–which includes fostering great interactions and service so that your business is ultimately more successful.
25. Zapier
Zapier's connections and integrations are essentially the modern definition of productivity. You want a shorter path from connecting all of the apps you use, rather than the manual way you've done it in the past? Then Zapier is the answer. Their whole company is built upon improving processes and making workflows easier. Their blog is no exception. In addition to offering technical hacks, it also has a streak of self-development productivity built into it.
26. Hubspot
Over the past 10 years or so Hubspot has made a killer blog…oh, and are also one of the fastest growing SaaS companies, too. But, we're here for their blog. If you're looking for anything to help you become more efficient in that timeframe, you've probably stumbled on a Hubspot article. They're super in-depth and also give you lots of ways to access content–through templates, guides, checklists, and more. Yep, most of their content is around business and marketing best practices, but they also take super-helpful dives into productivity to boost your business and teamwork as well. Check it out if you haven't already (though you probably have).
Recommended Post: How To Be Efficient: 7 Science-Backed Ways To Build Speed As A Habit
27. Productivity Land
The need for Productivity Land was realized when two marketers wanted to find the perfect productivity tool that would meet all their needs. Both Frank and Steve who also have a background in project management, soon found out there was no one perfect tool available in the market and so started a platform to help people make better and informed decisions when evaluating products. Productivity Land gives you candid productivity tool reviews, project management insights and tips to improve work-life balance.
Recommended Post: The Best Project Management Software of 2019 (Free & Paid)
Last but not least. We're biased, okay?
But we also know when we have a good thing on our hands (just check out what people think of our productivity platform!)
We're not only here to provide you with an awesome experience to connect you and your team to work that matters, but to also provide you with top-notch content to drive conversation at your work and to help you be more productive in the process.
Sound good?
Then you're in the right place.
Recommended Post: It Doesn't Have To Be Perfect. Just Ship It!
Conclusion
The Dr. Seuss book is for fun and inspiration. You can't actually move mountains with it.
That's the same with the recommended blogs above. It's not enough. You must do something with the info that you read. You have to try out what the bloggers say, and see what the results are.
To see any change, there has to be action.
If you want to be more productive, it's ultimately up to you and your team.
What steps will you take to make it happen? Are there any other blogs you would suggest? And by the way, if you're interested in starting your own blog, check out this helpful blogging guide from Ryan Robinson. A really great guide on how to get started. Or, if you're like us and love to learn, check out this other post for an idea on How to Start a WordPress Blog!
Tweet at us about your favorite productivity hack for a special hint about the next release!
Join 100,000+ teams using ClickUp to be more productive.
One app to replace them all