Patrice Gallion is the CEO mintblau media (German for mintblue media), which provides consulting and development of digital marketing experiences for small to medium-sized client companies. Mintblau uses mainly .NET based platforms like DNN and nopCommerce, but also Cloud-Based solutions like HubSpot and Mailchimp. Mintblau is also the first German agency to offer official ClickUp consulting services and uses ClickUp at the core of its operations today.
---
Nowadays it's easy to get overwhelmed with daily tasks… Especially when it comes to running a business.
For digital agencies, it's no different. Even more so if it's a smaller agency where the owners are responsible for a multitude of things inside the business.
To maintain focus as agency owners, we must leverage tools that make our lives easier. That's why we built a tech stack to structure and master all of our operations. At the heart of this tech stack is ClickUp.
Starting out as a Digital Agency
I remember back in 2014 when we laid the foundation for our company. After working in web design and development for over 10 years, my co-founder and I found ourselves collaborating repeatedly on project after project. One day on a car ride back home, we thought, "hey, we should do this together and start an agency!" We already had the skills and services to create our own company, mintblau.
Getting from A to B seems easy at first. But efficiency depends on the route you choose. Working as a freelancer, you develop your own systems until you recognize you can't keep doing it this way if you want to scale up a team.
You have to structure everything in a way that your whole team understands without getting stuck and asking the same repeated questions over and over. Even scaling up from one to two or three people gives you a whole new perspective on how to set up your agency in an efficient way.
Setting Goals for an Agency Tech Stack
To scale efficiently, you need a tech stack.
We keep our tech stack list in ClickUp and revise it on a regular basis to see if some of the tools might not be necessary anymore or might generate too much cost because they aren't used enough.
Every now and then, new tools pop-up and will replace others in the long run. This is how ClickUp paved its way into our agency lives and helped us crush our marketing goals.
We never had a piece of software actively used in so many different parts of the business. These are our main goals for our agency tech stack:
Keep it lean and simple
Access to the best solution for each part of the business
Cost-effective
Modern and up to date
Easy to use
Work with agency clients as well (so we can work with it, but also consult, train, and sell at the same time)
Compliant with European privacy standards
From Simple Tasks & To-do's to Real Project Management Software
When founding mintblau more than 6 years ago, we used basic "To Do" apps like Wunderlist and Excel Sheets to share project information and tick off tasks one at a time. It was an easy and cost-effective way for us to collaborate.
After a while, we switched to Jira Server for most of the tasks and some project management.
But Jira Server had three big disadvantages for us:
Not intuitive — it's hard to get around. Not only for some of our team members but even more so for external clients that we want to let in on the progress and actively participate. Jira is clearly more tailored towards developers but not so much for teams that include other types of employees
It lacks a lot of features or makes it complicated to use them
The mobile experience on Jira Server is not that great and not fun to use
Clearly, it was time to look at other solutions as well.
That's when we discovered Trello and quickly adopted its free version for our marketing and design departments. It was a good change but it wasn't perfect. Trello also seemed a bit confusing for our external clients and a lot of times we would lose focus on tasks. Also, features inside tasks didn't satisfy everyone on the team.
In 2019, we discovered ClickUp just around the time when version 2.0 was released. We jumped into the free version and loved it right away. It seemed to close all the gaps we had in project management before.
Being able to display projects in so many different ways (views) and customizing it on a user basis was powerful. After a few weeks, we moved to the Business Plan and never looked back. Every Friday/Saturday we are excited for the new features the ClickUp team consistently releases..
Shrinking down the tech stack with one core tool
From the start, it was always my goal to keep the agency tech stack as lean as possible.
Although I love using and testing new software, it's simply inefficient to jump from one tool to another in your daily work. I like to have one core tool, which works as the brain of the business and have other tools around that, which are doing more specialized tasks. That core software for us is ClickUp.
Tools that ClickUp already has replaced for us
Wunderlist
Excel Sheets for projects
Trello
Tools which have been partially replaced and might fully be replaced in the future
Evernote
InVision App
Jira Server
Slack
Toggl
After using ClickUp for a full year now, it actually feels like a true project management platform and more.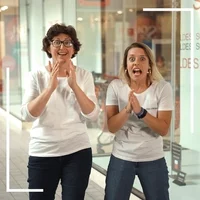 For web projects, we have created ClickUp Templates to be able to set up a new project in seconds and then do only the necessary customization. These projects are usually set up on a Folder level, then we split project areas like "Design," "Development," or "SEO" with Lists. Then, tasks and subtasks are set up to be assigned to teams and members.
We're also letting in more and more clients using guest privileges for them to follow our process and give us feedback with comments and annotations along the way. This allowed us to cut down phone calls and web-meetings by at least 50% in the last 12 months.
Other times we might only present clients shared views, like Gantt view, if we don't need much feedback or feel like clients are not that software savvy and get overwhelmed quickly with using new tools.
Our Favorite ClickUp Features
ClickUp has a feature-heavy toolset and the dev team keeps adding new features weekly. As a matter of fact, you never use all features of a software and some you use all the time.
Here's a list of features that we fell in love with and use on a daily basis to make our lives easier.
Home Inbox
This is where I spend most of my time in ClickUp – Inbox is definitely my digital home. That's where I start in the morning and end in the evening. It keeps me focused on the important tasks of the day instead of getting lost.
Comments & Chat Views
Commenting is the most important feature inside tasks. This is what mainly replaces Email and Phone for our teams and also for some of our customers. Chat views additionally make it easy to exchange and share information like interesting blog articles or latest YouTube Videos within the team.
Slash Commands
Blazing fast editing and content creation without ever taking your hands off the keyboard. We use /Slash Commands inside Task Descriptions, Comments, Chat and Docs all the time.
Minimizing Tasks
Minimizing tasks is gold. Simply click the minimize button and keep your most recent and important tasks in close range no matter what you're doing. This also helps to stay focused throughout the day. Especially when you have to jump from one project to the next.
Forwarding Emails
This is easily one of the best features inside ClickUp and helps us keep our Email inbox very clean. We simply forward emails to the corresponding task and archive the email. Genius!
Annotation
Being able to annotate images and PDFs is extremely powerful for design work like website and mobile app designs. It is so easy to collaborate on a design with a client instead of writing long emails or making phone calls.
Docs
The doc feature has us writing a lot of things right inside ClickUp instead of Word or Google Documents. Even for writing blog articles. This article was written in Docs as well. It is also very effective for creating internal WIKIS or Guidelines for employees.
Testing the boundaries of a project management tool
Why use ClickUp only for project management? Of course, it is really great at that, but not all business-related things are part of a project. We use ClickUp as our core software for business management.
Accounting
Starting in early 2021 we had the idea to track all agency expenses and revenues inside ClickUp to have a better overview of how the company is doing.
We set up Custom Fields for tax rates, expense categories, invoice uploads, and new statuses for expenses and revenue in a new space. We also set up another Custom Field for the month so we could group entries by months to have a nicer overview. We then built a Folder for each year and Lists for revenues and expenses.
For an overview of the whole year, we created Dashboards for each year where expenses, revenues, and tax categories are displayed in sums. This makes it very easy for us to create monthly tax reports. We also created some diagrams to see how many expenses we have in each category.
Additionally, we invited our tax consultant as a guest, so they can simply get access to all our data and work with it.
Subscriptions & other Contracts
After having fun using ClickUp for accounting, we started creating a list for all our expenses that we pay on a monthly, quarterly, or yearly basis, like subscriptions and leasing contracts.
We added a custom money field to see the amounts and have them summed at the bottom of the list. For things like leasing contracts we set the due date as the date of the last payment, then added an Automation to have the status change to "done" when the contracts run out so they disappear from the List.
Data Forms for anything
Whenever we need to quickly set up web forms to collect data and we don't necessarily need them to be visible on our website we build them with ClickUp Forms. This comes in handy for simple use cases. It must not really be project-related, but ClickUp can do it all.
Social Media Calendar
One of our service areas is to manage Social Media channels for clients.
For larger clients, we make use of professional Social Media Management Tools, but for smaller clients that are on a budget, we like to create Calendar views in ClickUp and set up all upcoming campaigns/posts with custom category fields for the Social Channel and for type of post.
If a client wants visibility into what's being posted, we also invite them to the calendar as guests or send them a shared link.
Wrapping It up and Getting through a Pandemic
As you can see, ClickUp has shown to be extremely flexible and improved our agency life in many ways.
Moving to ClickUp way before COVID-19 happened has definitely helped us a lot in terms of remote work and collaboration. When people ask how we are managing the new normal, we say "well nothing really changed for us" except we're not in the same building. While a lot of companies had to adapt and change the way their staff worked, we were already working that way before. Working with ClickUp has supercharged our agency!

If you're interested in ClickUp Consulting, Training, or data migration for you German-speaking company, get in touch with us here!